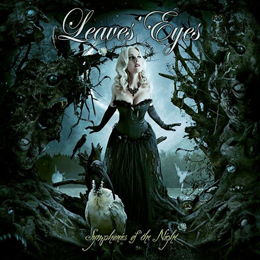 Release Date:
Friday, November 15, 2013
Leaves' Eyes are one of these bands that have come a long way to be where they are now. In my opinion, this band still deserves a ton more respect, definitely after the release of their new release, entitled Symphonies Of The Night.
The album title is just perfect for the music it contains. All songs are bombastic, mysterious and the band shows some of the best variety every heard within the genre.
Liv Kristine sings wonderfully well and her voice is as enchanting as always. Her husband Alex still takes care of the grunts and growls, which ensures the beauty and the beast effect in the most perfect way.
Hell To The Heavens, the opening track, is Leaves' Eyes's newest single and it's pounding and incredibly bombastic! I could go on and review the rest of the eleven tracks, but they all need to be discovered. They're quite easy to digest, but incredibly varied and strong!
Compared to the band's previous release, Leaves' Eyes have elevated themselves to the top of their genre again with the release of Symphonies Of The Night. These marks are well deserved!
Fans of female fronted, melodic, symphonic and bombastic metal, search no further! You've found your treasure!