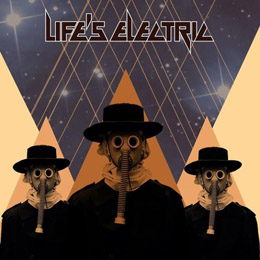 Release Date:
Friday, December 19, 2014
With the intent of making Pop-oriented music with heavy guitars, Michiel Korsten, Lars Geukens, Gert-Jan Stehouwer and Ferry van der Woude founded this Weerter-based (Rotterdam area) Dutch band in 2010.
Prior to the self-release of their 2012 full-length debut, Trust Me I'm A Doctor (which they recorded with the help of Beef's Jonas Filtenburg), the band already payed at such important venues as Tilburg's 013, Heerlen's Nieuwe Nor, and Dordrecht's Bilbelot, played at such nice festivals as Bevrijdingsfestival Limburg and Kempenerpop, and of course roamed across their homeland in a plethora of smaller clubs.
After the release of the debut album (which got critical appraisal from the Dutch media) and the usual round of gigs to promote it, a strong desire arose within the band to up the ante, to go for both more intense and more elaborate material, and after rehearsing new material they got in contact with Destine's Robin van Loenen to collaborate in making their new sound come out best. As a result of the collaboration, one might think having to do with a Progressive Post-Emocore band, when listening to the 4 songs on this here EP. The sound is simply super, the song structures made for sing-along sessions during performances (and one gets a choice between the somewhat cleaner lead vocals and the more screamed backings), and for sure, there's also a strong catchy factor, which is gonna make me remember each and every one of the four songs, if by chance I should come across one on the radio!
A release tour was already planned when we got our copy of the Catalyst EP, and it's very well possible that most of the planned dates are already passed/past. Nevertheless, I suggest anyone into the better types of music, to check out the band's music via (www.) lifeselectic1.bandcamp.com, (and live dates) via (www.) lifeselectric.com, (www.) facebook.com/lifeselectic. For videos, check (www.) youtube.com/user/lifeselectric. You won't be disappointed, and I personally haven't come across such an exiting band in their genre in quite a while (wish this was a full-length, really)!