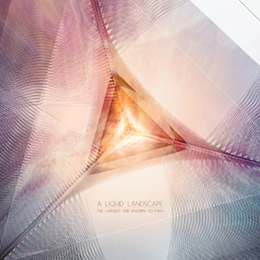 Album Title:
The Largest Fire Known To Man
Release Date:
Friday, November 21, 2014
Huh...I could've sworn that I had come across this Dutch Alternative/ Prog Rock band before, or at least that the band's debut album had come through the ConcreteWeb headquarters, because somehow the album's cover art looks so familiar to me. But a little research learned me that this was not so. Ach well, let's look into the band history then, shall we?
For the foundation of A Liquid Landscape (henceforth abbreviated to ALL), we apparently have to turn back the clock to the year 2009. ALL swiftly took to the Dutch stages making a nice reputation among those into their kind of music, and already in 2010 they became one of 6 finalists of the prestigious annual Grote Prijs Van Nederland band contest. The year after, they sold out 3 shows (with stunning visuals) at the Noorderzon band contest. Along the way, ALL also managed to get support slots with such internationally appreciated acts as Karnivool (from Australia), Anathema (UK), Thrice (US) and Riverside (Poland).
2012 brought the release of ALL's debut album Nightingale Express, which was co-produced by Australian top-producer Forrester Savell (known from his work with Karnivool and Helmet, among others). With a concept around a journey, both inwards and outwards, and with the lows and downs usually connected to a journey, the album was all about finding a place to belong, a brooding sense of uncertainty and, ultimately, self-deception. In order to bring something worthwhile visually as well as soundwize, the band hired movie maker Lex Vasseur to create something to accompany the music, and the result was a short film with spectacular imagery which was shown during shows (and made available on the band's website) through interaction with a live VJ. More shows followed with Marillion, The Pineapple Thief (both from the UK), Poets Of The Fall (Finland), and in 2013 the band also went on a month-long European tour (goin' through 9 countries) with Crippled Black Phoenix (also a UK band). In fact, as far as live activities were concerned, the band focused on playing support slots in their own country, playing at bigger venues (not taking opportunities to play at smaller venues), and in fact were playing abroad more often than in their own country.
All along, ALL was working on the material for a new album, and when time came to start the recording process, the band's management had found Bruce Soord of The Pineapple Thief willing to help out with the recording process, and also to mix and co-produce the whole. Like with the debut album, The Largest Fire Known To Man has a central concept, which is about relations, meaning "love". But it's also about how to deal with a break-up, or the contrary, about meeting someone new. There's also deeper interconnected things, but ALL wants the listener to find out those things on their own. According to frontman Fons Herder (lead vocals & guitar), the new album is even more fine-tuned than its predecessor, and therefore more a whole (from an interview with Dutch media portal 3voor12). There's returning themes, both lyrically and musically, which flow into each other, making or a need to listen to the album from front to back and again. Yet Fons also feels that one might pick out just any song to listen to individually. Oh, here's my cue to present to you the rest of this quartet, right? So, helping out Fons on the guitar is Niels van Dam, and the rhythm section is composed of bassist Robert van Dam and drummer Coen Speelman. One of the guys also occasionally helps out Fons vocally in a very harmonic way. Somehow, I cannot shake the feeling that occasionally someone brings in a couple of atmospheric lines on a keyboard, but then nobody is credited for such a thing in the booklet of the album!
To describe the bands music...now that ain't no easy task. What with Fons' voice being so peculiar, there's references to certain Sad Dad Trad Rock bands (Geneva comes to mind) and also to the band Arid. But musically, ALL is quite a different affair. Generally speaking, their music is somewhat laid-back, based on Progressive guitar lines and...best generally seen as an Alternative Rock with Progressive basis. I know, I ain't explaining very well, but words simply fail me here. It's a funny thing, you know, the band actually succeeded in making an album which is best heard from front to back, and there's hardly a track which one would pick out as favourite. That is, I hàve picked out one: the somewhat heavier starting instrumental "Hurled Into The Sun", but that choice is obvious, because as a non-vocal track it would stand out! For a complete track off the album to listen to, surf to (www.) facebook.com/aliquidlandscape, where "Open Wounds" is available as free download. A video for the same track is posted 10/10/2014 in the "Timeline" section. For more, you'll have to make due with the usual 30-second samples provided by the trusted onlin sales sites (you outta know by now, but just in case: Amazon, iTunes, CDBaby, etc...). By the way, I just noticed the band has a website of its own (lack of time while making research prevented me from checking that out).
End conclusion? I'm still hungry to give the album an extra spin...and I must've already listened to it at least 10 times, leaving nothing but the impression that I still don't quite fathom what the guys do instrumentally... and that in itself is a sign of greatness. So, what do you expect after such lauding words? A max rating, of course, and a nomination for that "Best Albums Of 2014"-list of mine, for sure!?