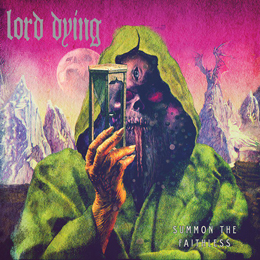 Impressive sludge metal with a thrash-touch is offered to us by Lord Dying on their debut-album and will bring each fan of High On Fire, Mastodon, Black Tusk, Red Fang, Ancients or Lair of the Minotaur to tears of anger! Because this stuff is absolutely excellent.
Great vocals, equally great guitars and a slightly progressive song-writing make this album an absolute secret-tip! The vocals remind me a little of Matt Pike, but more varied and thus better and this is not an exaggeration. No matter if the laser stops at the fantastic "Greed is your horse" or the great "Dreams of mercy" or the album's feedbacklight "What is not…is". The album has a clear production, but still has the evil and dirty vibe that a heavy recording like this needs.
I'd like to congratulate Relapse to this signing, next to Royal Thunder and Windhand their best so far!