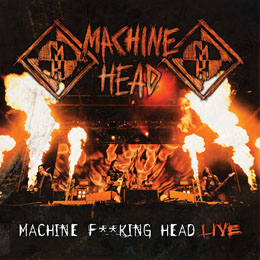 Album Title:
Machine Fucking Head Live
Release Date:
Friday, November 23, 2012
9 years after they give us their First live album, the Machine head posse is ready to deliver the good once again with this very fine encore that was named: 'Machine Fucking Head Live'. The content on these 2 silver disc where digitally captured for all of us during the UK-leg of their massive tour in support of their latest effort 'Unto The Locust'. Everybody that saw Robb Flynn and his crew during that tour knows that Machine Head has made an incredible progression when it come to playing live. This live recording proves that. You can really hear the perseverance that Robb Flynn is showing night after night. He wants to be the best and If you're honest than you'll have to admit he's coming damn close. With the help of a very strong band behind him, something he sometimes forgets. Classics such as 'Imperium', 'Aesthetics Of Hate' or 'Ten Ton Hammer' come out very brutal while a song like 'Darkness Within' gives you goose bumps, along with the impressive 'Halo'. This 'Machine Fucking Head Live' explains the fame an fortune this bands has won over the years. After 18 years they still let freedom ring with shotgun blast. If it's up to us they can now follow the steps of Barack Obama and roll further along by telling us the best has yet to come.