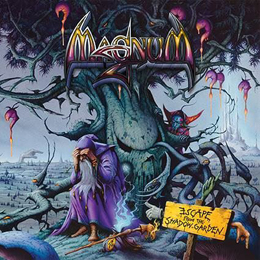 Album Title:
Escape From The Shadow Garden
Magnum is a British progressice rock band founded in 1972 Birmingham, England. Yes from 1972 maybe your parents remember this band made more than thirty albums (Studio, Live and Compilation). The Current members are: Tony Clarkin from 1972 (guitars), Bob Catley from 1972 (vocals), Mark Stanway from 1980 (keyboards), Al Barrow from 2001(bass) and Harry James from 2001(drums).
A new album "Escape From The Shadow Garden" after their last album "On The 13th day" 2 years ago. Starting with "Live 'Til You Die" what an opener the real classic sounding guitar from Tony Clarkin lifts the voice of Bob Catley to a higher level. A song with a fantastic rhytm plenty of atmospheric music, you can feel the drama the best opener to warm up and listen the other songs. The can't stop with "Unwritten Sacrifice" more keyboards and an emotional voice. "Crying in The Rain" a great song starting with a dry bass play with some cool guitar riffs before the drum falls in, and again a voice honest and awesome. And suddenly my favorite, the fifth song "Too Many Clowns" what a rocking song and that is what you expect from a dynamic band as Magnum. Grooving guitar riffs with a straight drum section and a cracking rocking voice. "The Art Of Compromise" start very soft but the band can make every song so intense with an awesome climax, long time to hear a sound like this. This production is fantastic what you normally expect from a band like Magnum. This album is very strong and you must have it in your collection. Great to listen and dream away!