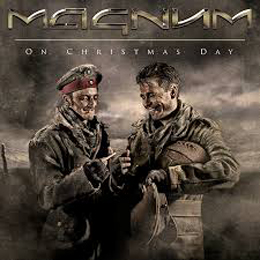 Release Date:
Monday, November 17, 2014
I guess SPV/Steamhammer wanted to hop on the bandwagon, and make money by releasing this single as a Christmas release, and linking this to the commemoration of the Great War as well (That's the First World War, for those of you who have just come out of a centuries long hibernation – just kidding of course).
So they approached Magnum, who were willing to use one of their older songs that featured on  their 'Rockart' album, 'On Chrismas Day'.  So this was released as a single, with a radio edit, and a longer version. Of course all Magnum fans know – and own this song already, but what makes this release interesting is the artwork, as it's something completely different from what you're used to with Magnum albums.
Since it's only a single, I'm not giving it a rating.