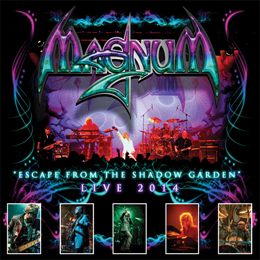 Album Title:
Escape From The Shadow Garden – Live 2014
Magnum is one of those dinosaurs, a band that seems to have existed forever and ever, and keeps on releasing new albums, although some of the members are close to the normal retiring age, and some, like vocalist Bob Catley have already passed the normal retiring age.
This live album consist of tracks that were recorded during their 2014 'Escape From The Shadow Garden' tour.  The songs on this album give a good view on their career, as they come from 7 different studio albums, of the 18 so far they  released. Despite not being a big fan of live albums, I did like this one, but that could have to do with the fact that  I've always liked Magnum.  The sound on the album is very good, but what it doesn't reflect is the athmosphere that reigns during a Magnum show, which is a shame.