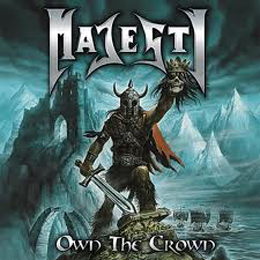 Release Date:
Monday, September 3, 2012
Coming forth from Germany, is Majesty. A band formed by vocalist Tarek "MS" Maghary. Quickly after the release of their debut album, 'Keep It True' (2000), the band started to build up a its reputation and soon after became more and more popular (but mostly underground). Their popularity kept growing and they toured with bands like U.D.O. and Mystic Prophecy.
But during the years, drastic lineup changes happened, a name change into  Metalforce. But earlier this year, Tarek announced that the band changed their name back to Majesty again. Also their was an announcement that they were going to release a compilation album trough the band's old label, Massacre Records, with is already available by now.
First of, this isn't purely a collection of old songs. The discs offer two new tracks 'Own The Crown' and 'Metal On The Road'. These 2 songs are in the typical Majesty heavy metal style and blend in perfectly with their older songs that fill up the record.
Since there are some older songs on this record and they haven't been re-mastered or anything, the sound quality of these recordings are of course of very low standers in these days, but it does have a certain old school vibe. All and al a good collection of songs or recent fans, but older fans will already have these songs. So common and bring out that new record.