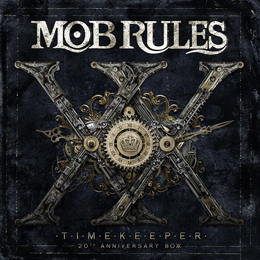 Album Title:
Timekeeper – 20th Anniversary Box
Since their beginnings – already 20 years ago I suddenly realize – Mob Rules have released seven studio albums, and to celebrate their 20 years existence have now released this Timekeeper album, which consists of 2 full CD's, a DVD containing only a single, and a DVD.
CD 1 is actually some kind of overview of their career, consisting of 15 tracks they've written and recorded over the years.  CD 2 is more interesting for the fans.  It consists of (only) 10 tracks, but these are performed by Mob Rules together with guests and friends, like Udo Dirkschneider, Amanda Sommerville, Sascha Paeth, Bernhard Weiss from Axxis and also includes a cover from UFO  : "Lights Out" and finally one new track "Broken".
The DVD contains a live recording from a Mob Rules US Show, official videos and some bootleg recording.  If like me, you've not closely followed this band, and want a kind of best of, you should buy this album.  Likewise if you're a fan of this band, this is an interesting release, if only for the new songs.
If you've never heard of this band, but are into power metal that does not really have the Teutonic sound like a lot of other German bands had, this is absolutely a CD that I can highly recommend.