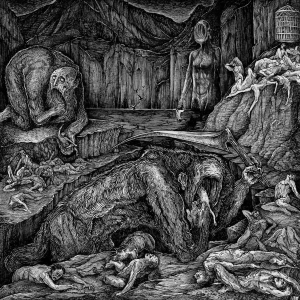 Release Date:
Tuesday, October 20, 2020
I did express my adoration for Aesthetic Death - and the sympathetic guy behind this label - a hundred times before. I won't go too deep into this English label's fabulous existence this time. But here's a review on another excellently chosen release, being a split in between two semi-Arctic entities. And I admit that this deals (once again) with an older release, but then again: so what?! Indeed (grim-looking smiley included)…
So, this nameless split comprises of two projects, both of them bringing two compositions for this collaboration exclusively. I'll come back to this immediately. First a word about the 'general' information, like the artwork: being a splendid work by Paramnesia / Lure / Silver Knife member Pierre 'Business For Satan' Périchaud (you might recognize his visual art for bands like Yaldabaoth, Déhà, Cult Of Erinyes, Mahr or his own [former / current] outfits). It was initially released on vinyl (300 copies) via Aesthetic Death and Lycaean Triune, soon after followed by a limited (100 copies) tape-pressing. And despite consisting of 'only' four tracks (two by each project involved, as mentioned before), the total running time clocks almost thirty-three minutes.
Side A starts off with material by one of the most productive persons from Ukrainian soil - no, from earthly soil: Sergiy Fjordsson aka Moloch. With assistance of Italian session / guest drummer Gionata Potenti (you know…), contributing from the misty dungeons of the famous BeastCave Studio, both tracks were finished (read: mixed and mastered) in June 2019 in Norway. The first piece is called The Seven Seals (5:52) and stands for uncompromising, no-nonsense Black Metal from the Old School; more specifically: very Second Wave-oriented. It's an Underground-piece, both harmonious and harsh, with melodic parts versus epic blasts, including a monolithic rhythm section, hypnotizing leads, and evocative screams. This track is a wall-of-sound, with a huge variation in tempo and structure, and including an ear-deafening production. It's 'primal' in essence, and therefor so pure…
The second Moloch-composition, The Seven Trumpets (12:29), shows the other face of this project, being the rather Ambient / Winter Synth-laden half. These seven trumpets open the portal to the next dimension, where bleakness and grimness dwell around like moths around a flame. Down-tuned drones rumble and reverberate, as if resounding from the abyssal void, horrifying and pernicious in nature. Despite its length, The Seven Trumpets permanently arouses, with vile eruptions passing by, then again dissolving into blankness. Fragments of martial nature, gloomy and eldritch excerpts, moments of asphyxiating dimness, and psychotropic sections are mingled into an uncomfortable yet natural organism.
Track three and four, Instruments Of Torture and (E)met, are created by the mysterious North-American one-man horde Arria Paetus (hailing from the sunny beaches of Anchorage, Alaska). Being part of the Lycaean Triune-family, it is no wonder that this recording has been recorded in collaboration with, and being co-released by this (underestimated) label as well, in partnership with Aesthetic Death. Both pieces, each of them clocking seven minutes and something, bring a nasty, high-tech form of Blast / Black nastiness with an uncompromising attitude. The better part is based on grumbling strings, with both dissonant chords and psychotropic lead melodies, assisted by a straight-forward rhythm section. The drum-patterns are devastating yet, at the very same time, ingeniously executed, while the whole rhythm-string-section supports the lead sequences. Dissonance and harmony go hand in hand. From vocal point of view, different angles are implemented: shrieking screams, deep guttural growls, harsh blackened throat-molestation and everything in between. For some well-thought reason, hints of Blackened / Brutal Death Metal pass by, both vocally and instrumentally, transcending any restriction of any scene. And (E)met even adds elements from epicism and Nordic majesty on top of the discordant structures.
Two quite different acts are gathered on this split (one being quite schizophrenic on its own), but this split-LP is more, much more, than just a compilation of exclusive pieces of Extreme Metal and Dark Aural Art. It's limited, this vinyl format, and about to be sold out, so be warned, folks…
https://www.aestheticdeath.com/releases.php?mode=singleitem&albumid=4217
https://aestheticdeath.bandcamp.com/album/split-lp
https://molochukr.bandcamp.com/album/moloch-arria-paetus-split-2
https://depressiveillusions.com/items/vinyl-12/black-metal-pagan-metal-blackgaze/moloch-arria-paetus-split-12lp-gatefold
https://arriapaetus.bandcamp.com/album/split-with-moloch-ukraine
https://www.concreteweb.be/reviews/moloch
https://www.concreteweb.be/reviews/moloch-0
https://www.concreteweb.be/reviews/moloch-somewhere-forgotten-paths
https://www.concreteweb.be/reviews/moloch-verw%C3%BCstung
https://www.concreteweb.be/reviews/moloch-horizont
https://www.concreteweb.be/reviews/moloch-1
https://www.concreteweb.be/reviews/moloch-2
https://www.concreteweb.be/reviews/moloch-i-shalt-become
https://www.concreteweb.be/reviews/moloch-voidstar