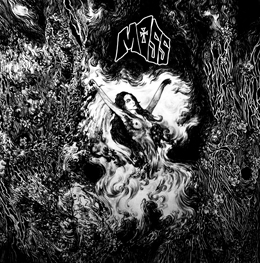 Moss's Horrible Night is grim, bleak, desolate, distorted, sombre, painstakingly slow yet the infernal pandemonium Chris Chantler-drums, Dominic Finbow-guitars and Olly Pearson-vocals/bass whip up is intoxicating.
Olly dopes an overpowering nihilistic apocalyptic atmosphere out all over this record and the blazing soundtrack behind him is a perfect companion. The band won't really impress you with their instrumental techniques but they get the job done very well. The fuzzy claustrophobic production here serves the album well. The instruments all sound very sludgy, like one big mass of a sound. Moss's Horrible Night provides a frightening descent into the darkest pits of night, Moss's ability to take them a dose of sickness and utterly oppressive heaviness of early doom  (Winter, Hellhammer, Thors Hammer, Electric Wizard) and meld them into a more 21st-century sense (Khanate, Buried At Sea, Ocean) is commendable.
Anyone into fuzz doom is well advised to give this band a chance, as this is an excellent release that will send you into a horrible night.