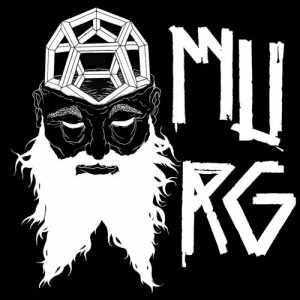 About four years ago, two friends from the Tienen-area (in the East of Flanders, in between Leuven and Sint-Truiden) started jamming together in some moisty and smoky cellar. Sometimes it seemed to come with a modest hit-potential, then again the material could not satisfy the members' ear drums. But that good stuff, well, slowly on they started memorising the better elements from their jam sessions. Finally, some first songs became reality. In a next step, the band started playing live too, trying to remember the songs they created before. And in their local area, they sort of reached fame – sort of…
But world domination, that's this band's aim. Being a four-piece in mean time (bassist Stoffel, guitar players Yannick and Niels (also vocals), and drummer Smekke), Murg (which is a phonetically spelled word for something that means something like, eh, being in a drunk or stoned state of mind, let's say…) entered the Rotselaar-based lakehousestudio, and in Spring 2016 these guys came up with their first official demo, which this review will (finally) deal with…
Actually, what this quartet brings is a quite energetic approach of Stoner / Doom material, to my opinion heavily rooted in the Seventies scene at the one hand (you know, the Pentagram stuff), with some current-days' elements injected. Sound-wise, everything sounds pretty unpolished and rough, but hey, this is a demonstrational recording, and therefore it surely is satisfying.
Performance-wise I am really surprised, the positive way. The demo opens with the instrumental piss, sorry, piece, Gluediver, which is an up-tempo stonerocker focusing on guitar-based melodies especially. But it's a first glimpse as well from an organic and cohesive joy-of-play in between all members concerned. But with the opening sequence of MURG, the second track (which includes a limited amount of vocals), they get my full attention. Saint Vitus-alike overpowerment (I just invented this neologism; isn't it a nice compliment?...) soon evolves into a hazy structure that reminds me a lot to Pentagram, as mentioned before, as well as the earliest Trouble efforts. And on top of it, I think that Murg somehow spice everything with an own mixture of herbs in order to create an own individual taste that might reach quite an audience. Kapsalon (meaning barbershop literally, but here it's named after some dish from a kebab bar) too (another instrumental piece) combines stoned haziness with a prominent energy, and I have to admit that, once again, my (attractive) head was banging slowly up and down, with inclusion of a sardonic grin on my (pretty) face. But with Bloedworst (black pudding – damn, it makes me hungry…), this band truly and convincingly surprises! This seven-minute composition (with this length, this track stands for almost half of the whole demo recording) opens with some spoken-word sample, very soon accompanied by an eerie guitar riff, rhythmic drum patterns and ominous organ-alike synths. Step by step, slowly but determined, this song 'grows'. At about two minutes, it evolves into some magisterial Doom epic with quite some cohesive yet varying excerpts and passages. The guitar riffs are purely overpowering, heavily supported by a splendid rhythm section (once again I need to mention the fabulous drum parts, as well as the firm and powerful bass riffs!), yet the voices too are so diverse, and truly adding a specific atmosphere onto the dark-edged attitude (dark-edged, yet with a clear cynic undertone). The grand finale of this epos brings forth a majestic sonic climax, and therefor this specific song is nothing but a highlight – a classic, an anthem to be???
Seriously, I foresee a great future for this band, at least in the Tienen area. No, once again seriously (this time for real, at least for a short while)… Murg are that kind of band that consists of musicians that come up with a passion as well as some great ideas. As long as they do not forget these ideas and as long as those guys are able to remember them and put them on paper (or on master tape), they will surely create pleasant stuff. There is a lot of inspiration going on, conviction and persuasion, in combination with humour and self-relativation; that's a great mix, a fine combination to purchase their ambition. They're working on new material, so I think we might consider Murg as a not-to-underestimate music(k)al entity with a modestly-bright future. Smoke on, boys!