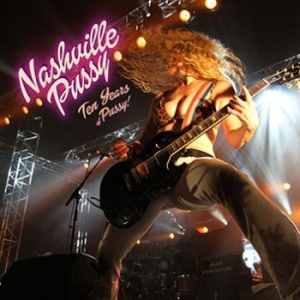 Nashville Pussy were formed in 1998 in Atlanta, out of the ruins of Blaine Cartwrights former band Nine Pound Hammer, and his wife Ruyter Suys, a lady he met at a Nine Pound Gig.  The 16 studio tracks on disc 1 are taken from their 3 SPV releases. The other disc is a bonus disc, containing songs form a gig they played in Nottingham.
If you've never heard of this band before, you may expect to hear a mix of bluesy hard rock à la AC/DC, mixed with some Southern rock à la Lynyrd Skynyrd bit brought with the energy of a band like Motörhead.
Buying this double CD, will give you a nice view of what this band released over the last years, but more importantly it shows that this band is probably at it's best playing live.  I's say this pussy has some balls.