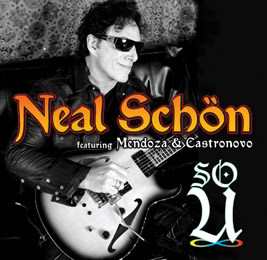 Neal Schön, founding member and lead guitarist of Journey (and as a matter of fact also the only musician that's been in Journey from their beginnings up to now), but who has plucked the chords in Bad English and even in Santana, has teemed up with fellow Journey bandmate Deen Castronovo, and bass player Marco Mendoza (Ted Nugent, Whitesnake, Thin Lizzy) to record this album.
The vocals and songwriting on this album have been split between these three musicians, but Jack Blades (Night Ranger, Damn Yankees) has also contributed to the songwriting. I want to warn you.  This is no hard rock album, not by far.  It is a good album though.  The guitar work is a masterpiece in itself. The songs are very different in that they show a wide variety of musical influences, starting with blues rock over jazzy to ambient and hard rock.  Some songs could even have featured on a Journey album, whereas others could have come from a Santana album.
It's the type of album that you have to learn to appreciate more and more, by repeated listening.  It's not 'easy listening' music, by which I mean you have to pay full attention to the songs, to discover the sometimes intricate details that have been interwoven in the songs.