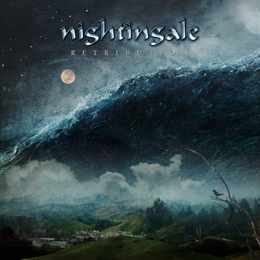 Release Date:
Monday, November 10, 2014
Nightingale is a progressive rock/metal band from Örebro in Sweden. Nightingale began in 1995 as a sole goth rock project of Dan Swanö, designed to explore his brief fascination with the genre, also evident on Edge of Sanity tracks such as "Sacrificed". On October 19,2014, Nightingale released their latest studio album entitled "Retribution". The album contains ten songs which reflect the hardrock/prog side of Swanö very good. When I listen to the first songs ("On stolen wings", Lucifer's lament" and "Chasing the storm away") can I say that it sounds like a sort of melodic hardrock that has an essence of rock flavoured with some classic rock elements. Even for non-musicians like me the album is very nice!
"Warriors of the dawn" is a song with a fantastic chorus, a pleasure for the ears! We can say that "Forevermore" sounds like a good hardrock song! Not bad at all! "Divided I Fall" is a very emotional tune with piano, acoustic guitars and a great vocal line. Also the song "27 (curse or coincidence)" has an acoustic verse, the song gets more powerful in the chorus. "The Voyage of endurance" is a pushing rocker. The sense of Swanö when it comes to great arcs of melodies is amazing. To touch the dark side of the soul Nightingale wrote (a slower compard to the others) "The Maze". Woooaaw is all that I can scream when I heard "Echoes of a Dream"! "Retribution" is a very nice album! Hopefully it will not take another seven years for the next record. I really enjoyed this album!