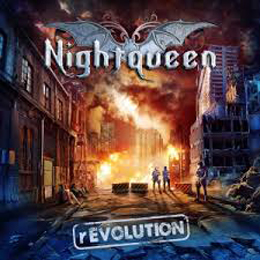 Line-up:
Vocals: Keely Larreina
Guitars: Rex Zeco
Guitars: Nei Gray
Bass: Steven Steele
Keyboards: Ed Scarlatti
Nightqueen is a symphonic metal band from Genk (Belgium) and they've come out with their second album 'rEVOLUTION'.
The album begins with footsteps and the noise of someone being killed with a knife and a maniacal laugh afterwards. Then the guitars kick in with a powerful riff followed with a heavy drum pace. Singer Keely Larreina has a powerful raw voice and it blends right in with the interplay between guitar and keyboard. In the first song she sings about the fear of the unknown and that fits in well with the intro. What bothers me bit is that sometimes you can hear the Dutch accent in her singing.
The production is ok, but not exceeding. The album is powerful but the sound is a bit over the top, with other words: the speakers go in overdrive. This is a pity because it reduces the positive impression of the album. Nevertheless a good album for the collection.