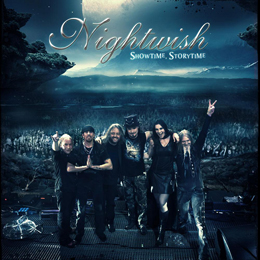 Release Date:
Friday, November 29, 2013
Since Nightwish released End Of An Era, a lot has changed, mainly at the front side of the band. Tarja got replaced with Anette and some years later, it was ReVamp's Floor Jansen to give it a go. She's only just been announced the new front lady of Nightwish and the band already decided to record the Wacken concert for a dvd, which goes by the title Showtime, Storytime.
We are treated to some of the band's best songs, not only new ones. The live concert includes tracks from all Nightwish albums, starting with Once's Dark Chest Of Wonders.
Man, Tuomas and his gang couldn't have possibly made a better decision choosing Floor as their new front lady. She's enormous in everything she does: from the clean vocals to the deep vocals to the operatic vocals, she handles it with such great care, it's truly breathtaking.
The Wacken crowd goes insane on this show and so should you! Get yourself to the nearest record shop to purchase this piece of goodness. Showtime, Storytime is worth every single penny!
If not for the music, do it for the artwork, because once again Nightwish delivers the whole package. Both the eye and the ear are in for a treat.
Something inside of me is telling me this, yes, THIS, is the beginning of a new era for Nightwish! It's showtime!