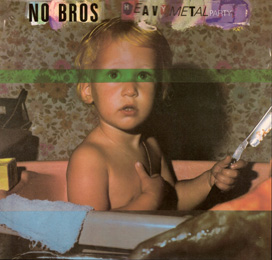 Album Title:
Heavy Metal Party - Ready For The Action
I've made the choice to write one single review for these two albums.  No Bros was an Austrian hard rock band, that had some success in the early eighties.  As a matter of fact the basis for this band was laid in 1974, when Klaus Schubert and Michael Außerhofer founded the band Target.  They changed their name to No Bros at the end of the seventies.
They toured quite extensively in the early eighties, going on the road with bands like Mötorhead and Uriah Heep, and gained lots of fans that way. 
I must admit though I had never heard of this band.  So when I put the first album in my CD player, immediately at the start of the first song, I had nostalgic feelings.  The sound of this album is definitely eighties, and reminded me of the albums Neat Records released back in those days, both the full albums as the compilation albums that made me get to know bands like Raven, Jaguar, Blitzkrieg, Savage, and many, many more.
But, whereas I still put on one of the records of the aforementioned bands, I'm afraid this will not be the case with No Bros. It's not that I don't like their music, but it seems to me as if they don't have a single song that sticks to my ear. 
And the reason why I don't write separate reviews is simple The Heavy Metal Party album is a rerelease of No Bros first album that dates back to  1982, and has some extra songs added.  The 'Ready For Action' album is a live recording, and to be honest I found the live album better than the studio album.  Which could mean that I'll have to rethink my first opinion, about not regularly playing this album again.
If , like me, you grew up in the eighties with NWOBHM in your ears, mixed with hard rock bands that were around at that time, I guess after a few spins, you'll get to  like this band, but make sure you have both albums, because the 'Heavy Metal Party' album alone doesn't do the band justice.