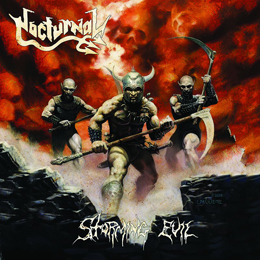 Release Date:
Friday, February 28, 2014
Nocturnal was formed out of the ashes of Bestial Desecration (a Teutonic trash metal band) somewhere in the year 2000. There was a new line up, but with the same vision: Trash metal highly inspired by bands from the German metal scene like Destruction.
To make a long story short, after some line up changes, several 7" releases and the 2 albums "Arrival of the Carnivore" (2004) and "Violent Revenge" (2009) and a new record coming out at the end of the month (so we all have something to look forward to). Well actually fans of the genre have something to look forward to. It is pure Teutonic trash in all its glory, so I reckon some people won't love this record/sound/… So in the end I liked the album for what it is, but I didn't loved it. It's just a matter of personal taste.