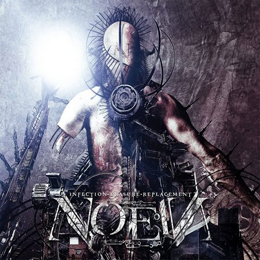 Album Title:
Infection, Erasure, Replacement
Normandy, the town of Rouen, Autumn of 2007. members of the local bands Aïdos, Krahan, Mémoria and Greenwald find a common musical ground, and strike out on their own. Thanks to their previous experiences, the band soon starts writing a set of songs with an Industrial Groove Metal sound, which they bring to Normandy's audiences starting the Summer that follows at the town's Fête De La Musique (in truth, the band only played two more shows that same year).
2009 not only sees the amount of shows being increased (to a total of 9 over the complete year), but also the band shooting a music video for its track "Chrysalis", and recording its debut EP The Initial Tale with Thibault Chaumont of Deviantlab (known from productions of albums by Trepalium, Klone, and more). The EP is released in April 2010 by the Les Arts Bourrins association, organizers of the festival by the same name, at which Noein played in 2009 and 2010, alongside audience attractors such as Trepalium, Recueil Morbide, Amen Ra, General Lee, Outcast, My Own Private Alaska, and others. With interest in the band increasing somewhat prior to the release, so do the amount of shows, and the positive reception of the EP in the French press sees the band branch out to some places (Saint-Lo, Amiens, and even Paris!) outside their local territory, something which happens even more frequently...and to even farther places, including Lille, Lyon...and Brussels!...in 2011. More importantly, in 2011 the band is selected (through a participation in the Metallian Battle Contest in May 2011) to represent France in the Metal Battle, contest wherein bands compete for the honour of gaining a support slot at Germany's prestigious Wacken Open Air festival...and comes out second!
Having gotten a taste of bigger stages, the band sets forth to write new songs, which they eventually record (again) with Thibault Chaumont (whom also takes care of the mixing and mastering of the material). Along the way, they get more professional help from the Upper Normandy in early 2012, which allows the band to be programmed for the two-day Rock Dans Tous Ses Etats festival (which also billed the likes of Manu Chao and Cypress Hill), and to open shows for Eths and Gojira. In France, the album (which has artwork by Hicham Haddaji of Strychneen Studio, whom in the past put their signature to artwork on albums by SepticFlesh, Norway's Shining, Mass Hysteria, Klone, As They Burn, Trepalium, and more) was actually released on February 28 of last, and since then the band has played some choice shows and festivals (March's Warm Up Festival, where they played on the same stage as Klone, …; May's Full Metal Cruise Party, which among many others, billed Sepultura and Nightmare; also in May, the North Invasion Fest; in June they were at Les Metallurgicales, alongside Born From Pain, Face Down, Arcania, and others; and in late July they played at the Rock d'Ay festival), with some more still coming up (Festival Des Arts Bourrins on 31/08 alongside the likes of Svart Crown, Mumakil, As We Bleed, and many more), but for the moment the band, which consists of singer Jenni, guitarists Nico and Adrien, bassist Cindy, and drummer/ samples handler Sylvestre, has not yet been enabled to fulfill their dream of going on actual tours.
A lot of the time, you can't even make out that it's a woman doin' those growls and grunts, but the vocal soundscape is versatile enough to allow, or rather warrant some ore screamed and even "normal" type of singing, which is when one can finally discern the gender of the lead vocalist! Over time, the band's musical direction shifted somewhat, and with influences coming (just citing what's mentioned on the band's facebook page now) from the likes of Mnemic, Strapping Young Lad, Fear Factory, textures, Gojira, Arch Enemy, Miksha, Soilwork, In Flames, Otep and Lamb Of God, the band's current stye is a "futuristic" Cyber Post-Thrash/ Death Metal, with still some of its Groove past included occasionally, and plenty of Progressive hints to boot. So, if the above has sparked an interest in getting to know the band a little better, and you don't wanna wait until they finally get an opportunity to play on a stage near your hometown, by all means check out the songs posted at (www.) facebook.com/noeinlusic (songs off 2010 EP). The band also has pages at ReverbNation (most probabaly sports the same songs as the facebook page), MySpace (could not check due to my network PC not being of a high enough configuration), and SoundCloud (might sport songs from the debut full-length – sorry, I forgot to check). Links can be found at the band's page on Encyclopaedia Metallum.
Meanwhile, the album has been turning another couple of rounds in my cd-player while I was writing out this review, and I've come to the decision that this, at least for me, is an essential buy. Hence my catapulting of Infection. Erasure. Replacement into my "Best Albums Of 2013"-lists!