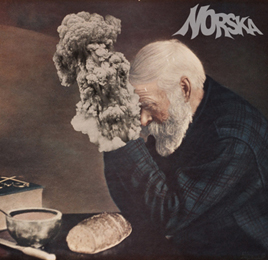 Release Date:
Tuesday, September 18, 2012
Although I have heard of the band, Norska, I had actually never heard any of their music. So assuming they are sort of a doom/sludge band with Yob bassslayer I took on the job to listen in and give a short verdict. Norska is highly hypnotic music with purpose and is full of cryptic lines that are truly inspiring. Sometimes growling vocals drag things down a bit, but after a few spins, you can't imagine them being any other way. Norska's reliance on bulldozer grooves and pounding psych rhythms does pay off, as the band seems to find an interesting point of equilibrium in their style.
Norska feature a proliferation of low-tuned groove-oriented material sure to please the fans of Acid King, St Vitus, Sabbath, EyeHateGod, Acid Bath,...and Yob.