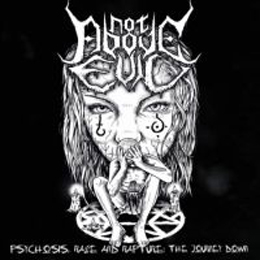 Album Title:
Psychosis, Rage And Rapture – The Journey Down
While at University Of Manchester, lead singer/ bassist Sideeq Mohammed, guitarist David Gwynn and drummer Daniel Mucs (also known from the bands Collibus and Wolfcrusher) founded NAE in late 2009, with the intention of developing a unique brand of Metal driven by brutality and technical precision. Only a few months after getting together, the three recruited fellow student David Horton as their lead guitarist, and went on to record and release their self-titled debut EP.
A mixture of Melodic Death and Black Metal, the 6 tracks on the EP not only got the band positive reviews, but also served as the basis for the 12-track full-length Deification, which the band self-released in April 2010. Funnily, while critics praised the album for being 'well written', and described the musicianship as 'played with confidence, self-assured, develish pace and a crushing appetite for precision', the ironical consensus seemed to be that the album was a stepping stone to greater things. In spite of the positive praise, Horton quit the band in late 2010, leaving the founding threesome with the lengthy task of finding a new suitable lead guitarist. After many auditions, and shows as a 3-piece, the guys eventually settled on new lead guitarist David Gwynn, and went on to record a second full-length (the guys themselves calling it an EP, because it only sported 8 songs...and in spite of the fact that it was 44 minutes long), entitled The Transcendental Signified, which they released late September 2011. Quite possibly, the individual members consequently focused somewhat on their academic endeavours, because it would take the band until August 1st of last to come up with new material, in the form of the current 4-track EP.
At this point, I would like to cite a "comment" made of the 2011 album by some executive at the UK division of Roadrunner Records : "Their riffs and drumming prove to me at least that they like Lamb Of God – a lot – but their vocalist goes for a high-pitched, throat-shredding Black Metal shriek more than a guttural roar, and that sets them apart somewhat. The songs' guitar solos are tasteful and well-executed, too. Thumbs up," and a further reaction to that same album by yet another executive at said record label : "No question about it, you guys are making some very classy, interesting and somewhat technical Metal here. Production is really good, and the vocals managed to straddle the right balance between the vicious brutality and discernible melodies. Keep up the good work."! In other words, no deal yet (actually, in later years that specific label, which was bought out by a certain major label, has geared more to sticking to bands that deliver a positive bank balance sheet, rather than invest in upcoming acts – so have other major labels, by the way!). Anyway...a good way to describe the band's music, and of course a certain focus to Lamb Of God coming from the fact that they actually know that specific band. In their own words, the band indeed takes influences from LoG, but also from Metallica, Mastodon, Sylosis, Trivium, Scar Symmetry, August Burns red, Children Of Bodom, Arch Enemy, Unearth, and generally speaking the Melodic Death Metal scene from Gothenburg.
On the home page of the band's own (www.) notaboveevil.co.uk, you get a chance to listen to the new EP's songs "From The Otherside" and "Jericho", plus 4 tracks off the 2011 album, and 7 tracks off the debut (which doesn't matter much, as the complete debut album was made available for streaming in the "Music" section of the website). You can also view a coupe of videos there : one of an extra song off the EP, the other being studio footage of Mucs recording his drum tracks for "From The Otherside". Thumbs up to Mucs, by the way, for having edited, mixed, and mastered the material on the EP! As for my personal appreciation of what I've heard here...there isn't really any negative comment I can give, really. The music is at the same time melodic overall, yet contains that underneath level of complexity I need to make me push that "play" button again and again. In other words: those music fans into a melodic approach in Extreme Metal will be pleased, as will those who like a bit of a listening challenge!
No idea why this band wasn't signed yet, but if it was because the members were still getting an education, I guess the guys should by now almost be finished with that, right? In other words, this would be the perfect moment for a decent label to invest in a future with this great act! They get both thumbs up from me, and I'm sure (or at least 95% certain) my Death Metal specialist colleague would agree with my nominating this long-titled EP for a spot in my year-lists!