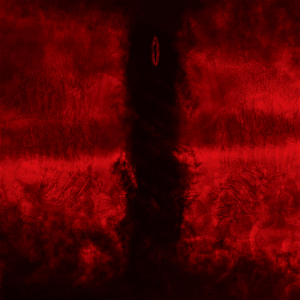 Release Date:
Tuesday, September 15, 2020
Throughout more than a decade of existence, the mysterious (the members wish to remain anonymous) French act Novae Militiae has not exactly been that productive. At the very beginning, they released their debut Affliction Of The Divine (CD + digital) via Ukrainian label Nihilward Productions (re-released on tape in 2014), and in 2017 Goathorned Productions took care of the release of Gash'khalah (CD + digital). This one too got re-released on cassette and vinyl (in 2018), and this via Sentient Ruin Laboratories and Argento Records.
Enter 2020. The anonymous project finishes its newest full-length album, and once again Goathorned Productions takes care of the release on compact disc (300 3-panel digipack copies) and digitally (September 15th 2020). Also via digital sources, as well as on tape (black slipcase) and on vinyl (2-LP in two different versions with edged D-side), Sentient Ruin Laboratories provides for the release duties on January 22nd 2021. The latter is a three-sided 2-LP with edged D-side (2 versions, black and 'galaxy' red-black).
Once again, this is a lengthy adventure. Topheth was the location where people did bring sacrifices to the demigod Moloch (and apparently it is Hebrew for 'the burning place' too). Novae Militiae surely wanted that area of evil ceremonial activities to be the next source of inspiration to create another monumental sonic piece of blasphemy and misanthropy. The album lasts for almost fifty-four minutes (divided into eight individually entitled yet organically related chapters) and comes with artwork that suffocates, yet that works inspiring too. The latter, by the way, was done once more by the bass player of Colombian act Ignis Haereticum, Fr. M.H. DCXVI, at his Sophia Design Studio.
For the better part, Topheth goes further where the mighty debut Gash'khalah left off. When analyzing the obscurity behind this second full-length, you'll notice the total lack of light / enlightenment. The sole 'light' might be violent flames burning at the sacrificial altars deep down the abyss, reducing lost and slaughtered bodies to ashes. It does not matter if you're listening to a blasting part or a slower excerpt; this is truly overpowering, leaving no room to breathe (except for a suffocating smog caused by those poisonous tongues of fire). And somehow, at the same time, it has something, well, intrinsic, spiritual, ethereal too. Call me crazy (no, don't you dare), but the dense atmosphere works paralyzing in a semi-divine way.
That burdensome yet esoteric thing gets strengthened by the sound quality for sure. The production of Topheth is ultimately heavy, unstoppable like an avalanche, loud like a waterfall, and totally doomed up like an ancient biblical story. It's all covered in some misty shade, which works both oppressive and abstruse, adding a marvelous level of occult supremacy. On the front do act the tremolo leads and vocals in the first place, supported by a monumental rhythm section. Within the mix, also that rhythm instrumentation shows its highlightening importance, and still the album comes with a thunderous boldness, getting rid of any exaggerated form of clinical decency. Listen, for example, to that bass-oriented intermezzo in Advent Of The Prophet, or the many outstanding havoc-like drum assaults.
As said, the voices are hugely important. The better part stands for, well, I have been looking for a description kindly appropriate to define the throat of the band's chanteur. That guy (pretty sure it's a 'he') growls / pukes out his lungs; these grunts are like demonically possessed, spitting venomous mucus and breathing acid. It comes from deep, so deep, giving a new definition to humane vocal cords. Beastly, diabolic, ragged, unpolished, you name it. Also some Gregorian chants, shouts or other variations do appear once in a while, by the way. The lyrical theme deals with religion and its philosophical approach, and questions about 'dark versus light' or 'life versus death', about historically influenced theories and ideas on Abrahamic matters, and how church, and about all (monotheistic) beliefs create(d) their own morals and laws.
The guitar-work is of huge importance. There is a variety in leads, with several tremolo-led chapters, mighty dueling excerpts and both discordant and refined melodies. And indeed; despite the unbelievable harshness, the melodic structures are remarkably well-thought. Sometimes it works truly mesmerizing, accompanying my mental state of subconsciousness to a level of semi-static hypnosis. In combination with those rabid growls, this causes both pleasure and discomfort.
All this gets, as mentioned, decorously supported by a monumental rhythm section. The whole meticulously executed string section (bass and rhythm guitars) lifts the leading part up to a niveau of utter sadistic satisfaction; in its totality, that whole stringed instrumentation rather sounds like a perverted wall of arrogantly executed sonic terror, a permanently growing tsunami one cannot escape from. And then those drums / percussions. Ah, so much variation, yet always perfectly fitting to the concept. Once in a while, it's fast as lightning, destroying everything that comes its way; then again, the ritual / martial character of specific parts get colored in patterns of black and even more black. A mighty example is the Apocalyptic Doom hymn Affliction Of The Divine (which actually is a reinterpretation of an older track [not the sole one], by the way, originally taken from the so-called 2011-EP). If you would leave all instruments (voices included) behind, just in order to listen to the percussions, it would be a monumental composition on its own for sure.
Another thing I do admire is the apposition of Ambient passages. This goes for a limited amount of excerpts 'within' some compositions (cf. the album's introduction), yet for two specific titles on the album too. It works like a nice counterbalance to the monumentally and monolithically heavy better part, and at the very same time it maintains that eldritch, horrific character of the whole album's conceptual approach. Mingling gloomy drones, confusing percussions, frightening soundwaves and wretched / tortured voices, a 'song' (haha) like A.R.F.A. might sound at least as bleak and murky as the intense aural terror from the other elegies on Topheth.
Topheth is (more than) a worthy successor of Gash'khalah, somehow comparable yet introducing new accents, and maybe going little more in-depth too. Or, in short: a must!
http://goathorned.com/releases/goat035/
https://sentientruin.bandcamp.com/album/topheth