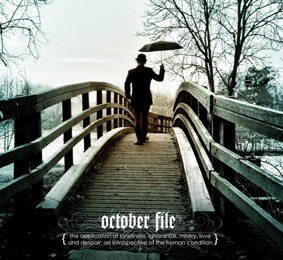 Album Title:
The Application Of Loneliness, Ignorance, Misery, Love And Despair – An Introspective Of The Human Condition
Every once in a while even your more experienced reviewer, no matter how varied his musical preference or how extensive (s)he collects music outside those albums (s)he comes across in (her/his) journalistic career, will come across some long-existing band (s)he never heard of. Okay...so the "long-existing" thing is relative...but the guys have nevertheless already put their mark on the UK's scene!
Founded in 2003 by bassist Steve Beatty and guitarist Matt Lerwill, and naming themselves after the Die Kreuzen album by that title, October File (hence abbreviated as OF) took influences from the greats of Rock, Punk, Industrial and Underground Metal, with an emphasis on their Post-Punk heroes Killing Joke, Amebix, Godflesh and Gang Of Four...and soon enough attracted the attention of UK record label Golf Records, who released the band's debut 3-track EP How To Lose Friends And Alienate People (say...there's a 2008 comedy movie by that title, starring Simon Pegg and featuring the likes of Megan Fow, Kirsten Dunst, and Jeff Bridges!) in April of 2004, following that up with the debut full-length A Long Walk On A Short Pier five months after. The band set out for a steady schedule of touring, and they haven't let off the steam since. Well...perhaps a little bit after all, as the original singer and drummer left, and were duly replaced by Ben Hollyer and John Watt respectively.
With the new and still-existing line-up in place, the band eventually recorded its last Golf Records EP (say mini-album, with 6 songs and near 25 minutes worth of music) Monuments, which was released in October of 2005. Somewhere during the next year, Candlelight Records released the Hallowed Be Thy Army EP, featuring 3 songs which would later also appear on the band's October 2007 sophomore album Holy Armour From The Jaws Of God (which contained a vocal contribution of Killing Joke's Jaz Coleman, whom the band had in the meantime befriended)...but before the latter would also come the High Octane Climate 7-inch and the 3-track EP Another Day (released a mere 7 days prior to the album). In the years that followed, OF not only toured with Killing Joke, but also with Prong, Ministry and Fear Factory, and performed at several high profile festivals throughout the UK and Europe.
The band eventually attracted the attention of Justin Broadrick of Godflesh and Jesu fame, whom offered to produce one of two quite distinct versions of the band's next album, the April 2010 released Our Souls To You. Like its predecessor, the album was well-received by both the media and the fans, and again led to a series of well-received shows and festival sets across the UK and beyond. Around that time the band also made an appearance (as their own zombified selves) in the comedy zombie movie Zombie Driftwood, while at the same time contributing their songs "Falter" and "Isolation" to the movie's soundtrack.
Having been announced of working on this, their fourth album, with a possible release for Spring 2013, it was decided to bridge the gap by releasing, in January 2013, a limited edition (only 1,000 copies made) CD/DVD entitled Renditions In Juxtaposition – Live At Bloodstock, featuring the band's 2011 triumphant set on that festival, and an early version of the then still unreleased track "I Fuck The Day". For whatever reason however (none is given), the release of The Application Of Loneliness, Ignorance, Misery, Love and Despair – An Introspective Of The Human Condition would have to be waited for a complete year longer!
But the eventual result was truly worth waiting for! Now, keeping in mind that I'd never even heard of the band before, let alone had come in contact with its music, I can only go on my own experiences in describing what I heard on the album, okay? And there's really only one good way to put it, namely that OF have indeed picked up that repetitive-progressive style of early Killing Joke, and turned it into a nicely bombastic whole, in which the Jaz Coleman-styled vocals are of course quite in their appropriate place! On the album you'll find two songs which are considerably longer that the other 7 (like double the length), yet still the hypnotically melodic & heavy stylings of the band makes for spellbinding attention-keepers throughout! A couple of surprises (at least for me) come with the acoustic ending of "The Water" (with 11:12, the longest track on the album) and the ensuing song "Upon Reflection", which finds lyrics only in the last minute with a spoken word poetic-like verse. And then the biggest surprise of all: the album's opening sequence of "I Fuck the Day", which has a sample from something German...something which, before I checked the info, had me thinking I had to do with a Teutonic band!
For some music by the band, check either their own website, (www.) octoberfile.co.uk ("discography" section leads to iTunes pages of the individual releases, allowing you to at least listen to 30-second samples), their MySpace page (which I was unable to check), or their page at (www.) facebook.com/octoberfile (where you're re-directed to the releases' pages on Bandcamp). As an alternative, you could also check the band's page at spirit-of-metal.com, where some videos were made available. Of course, you could always check out what else is available at YouTube, and in case you're into Spotify...