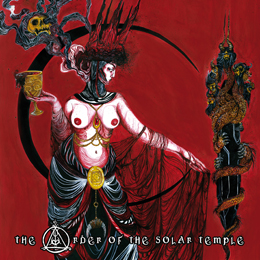 Album Title:
The Order Of The Solar Temple
Ach...every once in a far too rare blue moon, some record company will come along with an almost perfect description of one of their new releases. That being the case with this Vancouver based Canadian act, I felt I could not deprive you, dear reader, of exactly those words...so here they are (adapted, in small details, to comply with our website's rules, of course)!
"There was a time in the history of hard Rock and Heavy Metal, when the boundaries of those genres were blurry, and it was natural for them to flow together into powerful musical expressions, very often under the flag of occultism and esoterism. Today, those times of great ardour and creativity revive in the arcane melodies of The Order Of The Solar Temple, a wicked congregation performing strange rituals in the ancient magik of Rock And Roll.
Conceived in 2012 by Canadian singer/ guitarist Matt "Macabre" Emery -once in the ranks of Funeral Circle and other Vancouver Metal Acts – The Order Of The Solar Temple plaits the occult-tinged proto-Metal of Blue Öyster Cult with the dark, introvert visions of Paul Chain; the Doom arabesques of Pagan Altar with the dreadful Metal outbursts of Demon and Merciful Fate; the teachings of Aleister Crowley with the denim-and-leather philosophy of the first Metal era. The Order Of The Solar Temple is the band's spectacular eponymous album...a mass of overdrive, grandiose chants and sonic frequencies beckons you...discard your robes and close your eyes...
All songs written and performed by Matt "Macabre" Emery, except "Dominance And Submission", by Blue Öyster Cult. Comes as a jewelcase CD with 16-page booklet. Cover art by Luciana Lupe Vasconcelos."
Now don't that sound exhilarating to you? Here's some more info I picked up. Emery spent about a year to write/ record the 8 songs which would eventually land on his first album under the monicker of The Order...let's abbreviate that to The OOTST, shall we?...posting previews of finished songs on the website (www.) theorderofthesolartemple.com (which he erected for the project's promotional necessities) and YouTube as they were readied. In late September 2013, he was ready to commence the final mixing and mastering of the album (a deal apparently already made with I, Voidhanger Records for its release), and had already found a first line-up with which he started to rehearse the material in order to be able to play the stuff in live conditions as a band. That initial line-up comprised S. Mulleady (on organ, synths, guitar and doing additional vocals when and where needed), A MacGreagor (on the bass and also doin' the odd backing vocals) and M. Morrison (on the drums). The two latter have however since been replaced by P. Fiess on drums and backing vocals, leaving a position free for a bass player...although it's possible that that position will not be filled, after all! A little correction is needed where the credits are due, because the song "Back Home" was actually co-written with two other people.
Anyway, since that day in early October of last year, Emery also removed all the previously posted previews of the album off the project's website, and got his band out there to perform at a multitude of venues. By March 2014, the rehearsal sessions had also garnered a couple of writing and recording sessions, and apparently several releases would be forthcoming. A first make-you-happy arrived late that same month with the posting at BandCamp of a digital live EP entitled Live In Summerisle. Of course, as the release of the album in July came closer, the band's eponymous album was also posted there, made available for full streaming! And I suppose that's where, when you're done reading this review, I'll advise you to go next (just go to the band's website to find the link).
Personally, I don't find The OOTST's version of "Dominance And Submission" that well-succeeded! Somehow Emery just doesn't bring in the same emotions as Eric Bloom used to...but on his own songs he's really the perfect performer! Great stuff, except for that slight mistake! With only 8 songs on the track-list, the album nevertheless is still a nice 45 minutes in length.