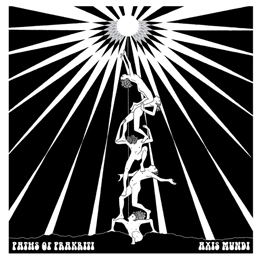 Our dearest Concreteweb's headquarters did recently receive a cd-r / mp3 with seven Folk-oriented albums. As a matter of fact, Strawberry Oracle Promotions will give some renewed attention to seven bands / projects within the Folk scene by having this material put on the foreground again. It deals with both recent as well as pretty old recordings, and in order to give this stuff a boost, I will be so kind to have it reviewed.
This review deals with a recording called Axis Mundi, created by Norwegian project Paths Of Prakriti. This Paths Of Prakriti debut album was released on October 5th 2011 through Folk-label Merlin's Nose. It's is a project by Jon R. Sylte, who wrote, recorded and produced this album himself, but he was helped out again by some colleague-instrumentalists: Anders B. and Ole K.M.
Axis Mundi is mainly guitar-based, but besides (acoustic) guitars and vocals, the project makes use of different percussions, sitar, flute, keyboards and organ. The material sounds like a Sixties-oriented Psych-Folk project, but not of the 'Happy Hippie'-kind (cf. several other releases via Merlin's Nose). More than once, I must think about the likes of Velvet Underground, Nick Drake or Pearls Before Swine, but with a certain modernised approach. It's monotone, but catchy and even 'poppy' if you want to, without leaving that Sixties-feeling behind one single moment.
[FYI: pratriki is a term from the Hindu religion and means something like 'primal matter']