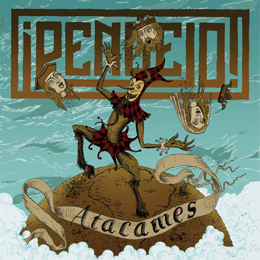 Following my review of this Amsterdam & North of Holland based "Latin" Stoner Rock/Metal outfit's debut full-length (review posted 08/12/2010 serves as history of the band up to that point) Cantos A La Vida, the quartet continued their musical career with a pace which is very in tune with the Latin antecedents of some of its members, playing short tours and some separate shows [among the short tours, a Dutch one at the end of March 2012, another short one through South America (Argentine, Peru and Paraguay) in July 2012, and a 4-day Spanish stint in early Nov. 2013], as ell as occasional two-day excursions (one to Belgium in May 2013).
Good moment to correct a little mistake I seem to have made in my review of the band's debut album: turns out Jaap 'Monchito' Melman is the guitarist, not the bassist...and since that mentioned review there's also been a line-up change with Stef Gubbels replacing Arjan Er Juan on the bass (must've been a rather recent change, though). Along the way, the lazy pendejos did not forget to compose new songs, which they eventually recorded at Eindhoven's The Void studio in a co-production with Pieter Kloos.
As on the debut album, some of the songs (5 out of the 10, really) get an added Latin influence through trumpet being played by the lead singer, El Pastuso...in fact, at the homepage of the band's own (http://) pendojoband.com, you'll find a first video (featuring renowned Belgian writer Herman Brusselmans) off the album for the track "Amor Y Poreza" (alongside a much shorter teaser video for the album). Except for "Dos!" (which also has some trumpet played in it, by the way), it's also the only song posted in that website's "Music" section, but the extra songs posted are really very representative for what the band does!
And what they do, they do so excellently, as the combined members of the press have already agreed! Should be fun to see a band as this on a stage, doin' its thing in live conditions. Actually the band will be doin' several European excursions this summer: in late June/ early July they even go out on an actual club tour of Germany, with some extra venues in Switzerland and Italy...which starts off on June 21 at Belgium's JC Het Slot in Wortel! I won't be able to be there, I'm afraid, as I'm off on a paleontological holiday, but for the rest of you Stoner lovers: find out where that place is, and get your asses over there on the aforementioned date!