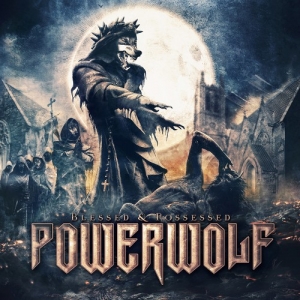 This iis already the sixth studio album from this German band that was created in 2003 by brothers Charles and Matthew Greywolf.  It took them a while to complete the line-up of the band, but in the end they found the perfect key-stone in the person of Romanian Attila Dorn, who became their vocalist.
And, while I knew the band existed, I had never felt the urge to listen to one of their albums, thinking it would be the umpteenth German metal band.  But I now have to admit I made a big mistake.
OK, the themes of their songs may not be very original, but they are well brought, and Attila has a great voice.  I may sound like blasphemy, but I find this band better than the guys from Sabaton, although in my opinion they operate in the same spheres.
The opening song 'Blessed & Possessed immediately sets the tone for the rest of the album, and before you know it you're at the end of the record, thinking 'is it over already', because each and every song is a good one.  I sadly enough only received one CD, because he's also available as a double pack, where the second disc contains ten cover tracks, and I would have loved to hear how these guys perform them.