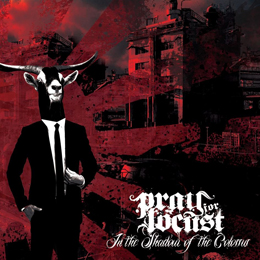 Album Title:
In The Shadow Of The Colossus
Formed in Stockholm during 2009, this Metalcore quintet's line-up (sporting lead singer Tintin Anderson, guitarists Jerry Engström and Stefan Schyberg, bassist Kvasi and drummer Simon Corner) apparently remained unchanged throughout its short but already (relatively) successful history.
Successful? Yes indeed, because although a young unit, the guys were soon signed to the Supernova record label, who released the band's debut full-length Swarm in August 2010. "Relatively"? Yeah...apparently the band had had o make some concessions...proof of which the recent statement of the band's singer, relating to their current release: "Finally we've made an album without compromise..."! Compromises which on the debut full-length meant having to deal with the label's appointed producer...and on the album's follow-up recordings (in the form of the August 2012 4-track self-released EP Into The Ocean) with having to make a recording with limited means.
For their second full-length, first recordings of the drums were done at the professional Stockholm based Play Hard Studios, followed by recordings of guitars and bass at various home studios. Eventually, the vocals were recorded at Meshuggah's old Garageland Studios/ Enhanced Audio Productions, by non other than Ronnie Björström, known from having worked previously with the likes of Aeon, Hate Ammo, Live Elephant, Zonaria, and more...and whom was also hired to bring out a more dynamic and dirtier sound by doing both mixing and mastering of the material!
The end result is explosive to say the least, with each facet of the band's music coming through clear as crystal! A sound which, according to the label's info sheet we got along with our download copy of the album, still finds the base of Metal/ Hardcore mixture intact, but which now has a greater variety and therefore a bigger depth. Regretfully, I cannot compare from firsthand experience, and nor could any of my colleagues of this here website, because In The Shadow Of The Locust is indeed the site's introduction to the band...but what I've heard on this album surely answers the description, and found me sufficiently surprised in a positive way. Whether the album has such an effect on you, dear reader, is something which you will have to find out for yourself...and you can do so by listening to the album either on Spotify or on Bandcamp. If ou have no access to those sites, you can always listen to the 30-second samples usually provided by your trusted online sales sites (the album, alongside with previous recordings, were sold through both Amazon and iTunes...so comparisons to older material can be done, albeit on a limited level!).