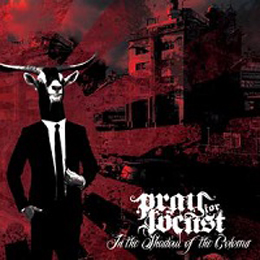 Album Title:
In the shadow of the Colossus
Pray For Locust is a  Swedish metalcore band releasing with In the shadows their second full length album.  
All the required ingredients are there: raging vocals, riffs flirting with Black Metal and drums which vary in speed from blast to thrash and back again. Singer Tintin (what's in a name) puts in a very credible angry man  performance…just listen to  "Dead Man's Curse" and you'll understand what I mean.  Songwriting  seems to have been a group effort and to be fair they've got a good thing going, there is no overkill of speed or blast or ….  Overall a well-balanced metalcore album, my fav besides  "Dead Man's Curse" are "Our Last Breath" (because it has a great built up and is the more thrashier  track on the album) and  "Bad Blood". In the shadows of  the colossus is not going to shake the  metalcore world in all its foundations, but overall it's a very decent album.