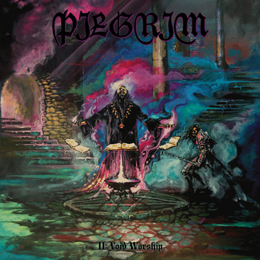 Release Date:
Friday, February 14, 2014
Barcelona based Heavy Psych Rock act Prisma Circus was founded only recently, and so we must assume that the stars were aligned just correctly to find the band binging out its debut full-length album merely 3 ½ years after the band's conception.
The band was started in September 2010 by singer/ bassist Joaquin Escudero Arce, and drummer Alejandro Carmona Blanco, with guitarist Oscar Garcia Albizu joining them in 2011. They recorded (with Joaquin behind the console as recording, mixing and mastering engineer) a 4 track self-titled EP (with guitar performances by Jordi Rodriguez Gallego and Aurell Rubio Panadés – I'm guessing they were the band's guitarists prior to Oscar's joining - on two of the songs, one of which Oscar also added an extra layer to, besides playing on the other two tracks of the EP) which they released in limited rotation 12-inch vinyl (only 300 copies made) on February 16, 2012...and in promotion of the thing toured throughout Spain, Portugal, and put in some shows in France as well.
Somehow or other, world about the band got to Germany's World In Sound, and a deal was made for a release by the label of the band's debut full-length on CD and LP, with the band still taking care of the digital distribution themselves. So, during June 2013, the band secluded itself at Girona's Black Pepper Studio with sound engineer Jaume Figueres to record the 8 songs which are now featured on their debut full-length. The material (recorded completely on analog systems and mixed in a collaboration between Figueres and band members Alejandro and Joaquin) was subsequently sent off to London's 3345 studio, where Noel Sommerville mastered the thing for best sound results.
And I have to say, it doés sound good! And to that fact several Spanish, French, and German reviewers (who got a digital download of the album – which was available from August 2013 – far ahead of the album's release, which was originally slated for November 2013) agree full-heartedly. The early Seventies feel (wah-wah infused Blues based Jam Rock with a Heavy touch without turning into Metal) really exhudes from each of the eight songs, and take the listener back to that age without the use of any (possibly) dangerous drugs. Well...of course music càn be dangerous, you know, but as long as you keep the volume down, the only dangers are wanting to listen to it more and more, or wanting to make music on your own...in both cases you become an addict, and usually start spending more time in music (of course, in the case of starting to play, a certain aptitude on the instrument of choice is necessary for one to really persevere) than is considered healthy by those who don't understand what music can be about (so...why should we even care, uh?). For your personal introduction to the band's very excellent music, check out both the EP and album via the "BandCamp" section at (www.) facebook.com/prismacircus. One personal observation: the slight accent in the singing voice at first that bugged me a bit, but I soon almost forgot that little detail as I submerged myself in the more than trippy music. Oh, by the way, on the album's closing track "Joseph Merrick (The Elephant Man" Joaquin also plays a bit or keyboards.
Nice stuff, this, and another positive notch for the World In Sound label!