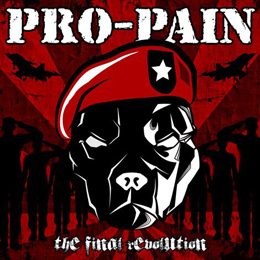 Release Date:
Monday, November 25, 2013
Pro-Pain is a New York based hardcore band witch was formed in 1991 by vocalist/bassist Gary Meskil and drummer Dan Richardson, who both were former members in a mutual band. The bands debut album Foul Taste of Freedom was released in 1992. It was such a success that after the band got signed to Roadrunner Records, they reissued the album a year later. The Second album The Truth Hurts was initially banned due to the sleeve artwork witch featured a picture of a stitched-up woman after an autopsy. The band released several more albums with a varying line-up over the years.
And just a few weeks ago they released their latest creation entitled: "The Final Revolution". Once again these chaps do what they do best, make good hardcore. It's honest and has the typical bad boy attitude that comes with it, but I have to admit it does lack a bit of creativity. It certainly isn't bad, but after so many albums, it's normal that you get the feeling you heard that song before.