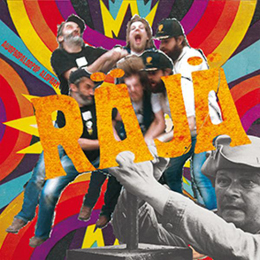 Album Title:
Awopbopaloopop Alopbam RÄJÄ
Oh my God...you must be kiddin' me...what a crazy bandname, and what a tongue-trap album title. I mean, unless you're of Finnish descent, like the band, is there really a way to pronounce that title without rollin' over your tongue twice? But good golly...does this band ever make crackin' good Hard Rock 'n' Roll music!!!
Hailing from Jytäskylä (situated some 270 km North of Helsinki), the band started out some two years ago, with plans of playing Rhythm 'n' Blues. But very soon the trio (guitarist Villisika, bassist Rock Siltanen, and drummer Baddad Reed) found out that their combined vocal delivery added a degree of craziness which lifted the music to freaky ends they could not have dreamed of before. While the guys actually manage to keep their instrumental weirdness to a minimum in sóme songs (take "Me Räjäytetään" for instance), they found they could not keep themselves from adding a wacky element nevertheless, and of coursethe band's "normal" instrumental status is governed by overdrive and feedback, which brings forth reminiscences of the likes of (as mentioned in the label's info) The Stooges, MC5, classic Garage stuff, as well as Faust, Dr. Feelgood, ZZ Top, and the odd surprise attack of The Fall. In Finland, people have apparently resurted to calling it Räjä 'n' Roll, and if "räjä" translates into weird, crazy, loony...than that term befits this band perfectly!
With no pages on MySpace, Reverbnation, and no music at the band's own (www.) rajayttajay.net (it's just a page with some gig announcements) or facebook.com/pages/RÄJÄYTTÄJÄT, you'll have to make due with the two songs posted at (www.) ektrorecords.com. But, beware...for this band's lunacy is extremely infective, and will incite you to wanna hear more, and more, and more...and there's no other way to do that, than by getting yourself a copy of the album, right? Or to invite the band over to play in your garden, I guess! Either way, I'm adding the album to my personal "Best Albums Of 2013"-lists! Darn...what good healthy fun!!!