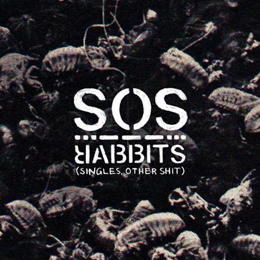 Album Title:
SOS (Singles, Other Shit)
Release Date:
Tuesday, December 3, 2013
I found but very little info on this Portland, Oregon based trio of Punk/ Sludge/ Thrash mongers. The line-up is comprised of Sethro on guitar and vocals, Booze on guitar and vocals (and the band's lyricist), and KG on drums and also on vocals, and the dudes started playing together as far back as 2003, with the intend to bring a mixture of Spacemen 3's droned-out minimalist psychedelics with Man Is The Bastard's Powerviolence.
In the early ears the band took up residency at a lowly "venue" named Food Hole and the neighboring happy-hour bar Tube, relentlessly subjecting audiences to their wacky mixture of art-damaged Hardcore and Noise Rock (pinched that off the info sheet – I mean, I obviously liked the description, didn't I?), and eventually self-releasing their debut 7-inch Sloth vs. Bees in 2005. That same year the band also released a split 7-inch with the befriended Under Mountains on the Eolian Empire label (which is now run by the band)...the latter coinciding with getting a support slot on the Liars West Coast tour. In stead of gaining fans however, the band's antics and musical style alienated the audiences. But the obstinate trio persevered, continued to put out short releases on several labels, and playing the Portland area often (they seldom tour). This eventually led to attracting the attention of the people at Relapse Records, who released the band's full-length debut Lower Forms in 2011. One year later, the sophomore album Bites Rites followed, this time issued through Good To Die Records. Although both albums were critically acclaimed, sales were quite disappointing. In fact, Relapse even re-sold the rights to the band, who re-issued Lower Forms on vinyl.
I'm quite uncertain of the course of events after that. What I dó know, is Rabbits have shared the stage at some time or other with the likes of Arabrot (with whom they also had a split 7-inch on Eolian Empire – another split 7-inch was with Dead Elephants, and also on Eolian), Big Business, Black Cobra, Burnese, Helms Alee, Red Fang, Rorschach, VAZ, and Yob. The band has been compared to Melvins, KARP, Jesus Lizard, Cows, Flipper, Butthole Surfers, Harvey Milk, Brainbombs, and many other bands (even some purely Metal), but the crux of the matter is, those comparisons were for the most momentary flashes, fleeting short passages of resemblances to those bands within songs...and Rabbits's complete songs never sound like any of those bands at all! Descriptions have used the words "earthquake-heavy brontosaurus Rock" (Portland Mercury), "twisted riff-fest" (AV Club) and "crushing, grooving madness" (American Aftermath), and a combination of all of thóse (as cited by one Terrorizer reviewer: "ranging in approach from Sludgy-as-all-fuck – alà Buzzov*en – to violent, oldschool Hardcore – think Negative Approach – to aggressive Noise-Rock – Unsane come to mind") is perhaps more to the point than any comparison ever made!
The SOS (Singles, Other Shit) album, released on cassette which is now sold out at Eolian Empire (some last copies might still be gotten from Earsplit Distro : (www.) earsplitdistro.com – and you can always pay-per-download the album at (http://) digital.eolianempire.com/album/sos), brings together songs which were recorded between 2006 to 2013, and includes bonus tracks from LP sessions, 7-inch tracks, unreleased demos, radio performances, alternate versions, and practice jams. The cassette, as can be expected, has two sides, with the a-side sporting 6 original Rabbits songs, and the b-side including Rabbits-ized covers of some of the band's favourite Hardcore songs, including Discharge's "Hear Nothing See Nothing Say Nothing", Cro-Mags' "Hard Times", Rudimentary Peni's "One And All", Bikini Kill's "Rebel Girl", Negative Approach's "Evacuate", D.R.I.'s "I'd Rather Be Sleeping", Poison Idea's "Think Twice", Minor Threat's "Straight Edge", Black Flag's "Wasted" and an unlisted bonus (I'm sure the title is "Drink Drink Drunk", but whom were the original performers again...?). According to their own info sheet (which the guys obviously wrote themselves, I guess), the band might've recorded those covers just to piss us off? Well, I'm not annoyed at all! In fact, I'd love some more of that stuff, and of course some more of the band's own as well, you know. You see, I love music in quite different forms, and I feel what you guys do is rather a different take on your run-of-the-mill type of Hardcore or Sludge...so, by all means don't get deterred by what others tell you, and keep on making that truly original type of music of yours!
Oh, before I forget it, anyone wanting to listen to the album, just surf to (http://) rabbitusmaximus.com; click on "rabbitshit" to enable yourself to watch a video of the album's track "No (More) Depth"; click on the choice to "dive deeper into the rabbitshit", and you get a choice of links → click the top possibility (You want to listen to RABBITS on the internet), and you're linked to the album's page on Bandcamp (where you're also enabled to listen to the album Bites Rites, the track "Yr In Luck" - released May 2013 – and a compilation of 3 short live sets entitled Live Love – released Nov. 2013). Enjo-ho-hoy!