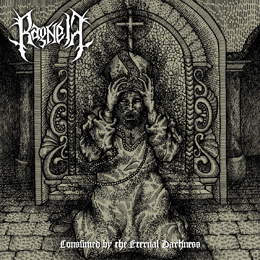 Album Title:
Consumed By The Eternal Darkness
Release Date:
Tuesday, December 23, 2014
When I listened to Ragnell's debut, I was quite enthusiastic about the result. That mini-album, called Black Requiem, was, just like the one this chronicle will deal with, released via Satanath Records, and the review was updated on September 27th 2014 – check it out!
It's a fabulous thing to notice that Consumed By The Eternal Darkness, these Mexicans' second recording, goes on in the very same vein. The album lasts for fifty minutes and gets released in an edition of 500 copies. After an intro with grand piano, organ and synths, the band surprises with their majestic, overwhelming Blackened Death attack, pushing the listener's attention with his (or her) face into a muddy, smelly swamp of aural terror. But the terrific part isn't that scarifying. No, it's rather attractive and majestic. Every piece is filled with breaks and tempo-changes, focusing on highly-technical melodies and dark atmospheres, and injected by grandiose extras: blackened screams on top of ultra-seep grunts, some harmonious chants, epic passages (probably much more prominent and present than on Black Requiem, but it isn't but a great evolution), high-tech riffing in equilibrium with traditional war-chords, etc. Without exception, every track has several elements that draws, and keeps, the listener's attention. And it might not sound renewing; still it is refreshing what these guys do!
Just for info: the stuff has been released as well, though in a very limited edition, via Frozen Archives. But this specific version (the Satanath-one, I refer to) comes with some bonus material, which was done for the debut MCD Black Requiem and taken from those recording sessions. Just check that review and you'll get the point of my appreciation.
There are hints of Vesania, Darkthrone (the Soulside Journey-era included!), Kataklysm, and many more, yet in one way or another Ragnell are able to create their own sound, their self-faced approach, and in combination with the highly-qualitative song writing and ditto performance, that isn't but glorious!