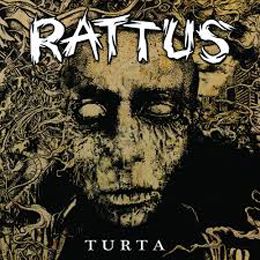 Release Date:
Thursday, December 5, 2013
Way back in the mid-eighties, I proudly brought Rattus' full-length album Stolen Life to my weekly meeting with the group of Punk/ Hardcore music lovers I had befriended, and prepared them for a shock. Even then, I had grown convinced that what held back musicians to grow out of the Punk/ Hardcore idiom into spheres more complex, was the fact that they didn't have the techniques to do that, and that as soon as a musician had acquired such techniques, (s)he would put them into practice in the music played! Rattus' new album was in fact a perfect showcase for that, as the aggressive Speed Metal based music on Stolen Life was a clear step away from the band's usual output of high-velocity Thrash Punk, as on top of that all lyrics (which previously were a mixture of mostly Finnish with the occasional English) were now completely in English.
For Rattus, things started in Spring 1978 (the story which follows, was re-worked from that posted at the band's own website (www.) rattus.fi – warning: long story, as I put in some personal stuff as well!), when Jake Marjamäki (vocals and guitar) and Vellu "V-P" Hyvärinen (drums and vocals) started playing covers of mostly English Punk bands (check: Sex Pistols, Damned, Clash, and more of that ilk...) just for fun. After a few weeks the duo decided to take things on a little more serious, and so they asked Jake's brother Tomppa to join the band s its bass player. So he did, and soon enough the trio started making their own original music. It was Tomppa whom came up with the bandname, for which he was inspired by the first The Stranglers album Rattus Norvegicus. In fact, there were some other names he suggested as well, but I leave that for you to discover on the band's website. At any rate, from the choices offered the others chose one...and so Rattus was born!
That same year the band recruited their classmate Jari "Viri" Virkki as their singer, and in 1979 the band even grew to a quintet through the addition of second guitarist Risto "Mutu" Murtosaari, but in 1980 the band returned to its original trio, when Jari and Mutu went off to start careers of their own. In those early days, the band played shows (or at least tried to – some funny stories at the band's website) only within the vicinity of their hometown of Vilppula, and soon were forced to seek playing possibilities elsewhere. Following the departure of its extra members, the original trio released its first recording (there had already been some demo recordings beforehand, also in the band's different line-ups) in that same year, in the form of the two-track 7-inch single Khomeini Rock, through their own Hilipili Records label. With only 200 copies made which were sold mostly to immediate friends, this little item later became perhaps one of the most sought-after Hardcore Punk singles ever, and on the rare occasions that a copy was sold over eBay, it fetched incredible prices. That same year the band made its second recording, the 7-inch EP Fucking Disco, and released it in early 1981. Following the original run of 200 copies, Hilipili swiftly pressed another 100, of which half were sent off to English record store/ mailorder Bullet Records, who had a craving for the early Finland Punk bands. The band was then signed to the Poko Records label (and also to a record store named Epe's), who would issue the next 4 releases: Rattus On Rautaa (EP, 1981), WC Räjähtää (12-inch "full-length", 1982 – re-pressed in the US; I'm not certain whén, but it wàs in the early '80s; it was also the first Rattus album to feature artwork done by renowned US artist Pushead, for which he was paid a mere 8 albums), Rajoitellu Ydinsota (EP, 1982 – re-pressed in France & Brazil; same remark as with WC Räjähtää) and Uskonto On Vaara (12-inch "full-length", 1984 – again with Pushead artwork; was also repressed abroad, see further)...which in 1993 would be re-issued as the compilation CD entitled Levytykset 1981-1984. To please the ever-growing demand on Rattus material abroad, a compilation album simply entitled Rattus was released in the UK and US during 1983 (I have no idea through which labels, though!).
Meanwhile however, changes had begun to occur within the Rattus line-up. As Jake was wanting to concentrate on his guitar play, the band looked out for a singer at the beginning of 1983, which they eventually found in their roadie Anssi "Annikki" Nieminen, having first done rehearsals with another dude. In January 1984, Rattus offered the recordings of their EP Ihmiset On Saraita to their label whom, having grown displeased with the meager revenue on the Punk material he'd released (in other words, although the dude looked sympathetic at first hand, he really was only in the whole thing to make money...whole lots of money, which could not be made with that type of music back then), told the band to go find another label...which wasn't found until 1985, with the newly founded Ann & Archies making it their very first release. The EP's tracks were added to the Brazilian re-issue of the Uskonto On Vaara album (which made it a proper full-length), and one of the songs even made it to the infamous Welcome To 1984 compilation album issued through Maximum Rock 'n' Roll.
Up to late 1983, the band had never played outside of Finland, but then the band was offered a gig in Arhus, Denmark, and in the spring of 1984 the band undertook a 4-week European tour which brought the band to stages in Sweden, Germany, Holland, Italy, Yugoslavia, Denmark, and England. Although a small-scale affair which brought the band to the smaller venues only, the fanzine scene (there really was no www around at that time, you know, it being in its beginning stages only) reacted very positively indeed, giving the band rave reviews and interviews galore. In a weird touch of fate, Rattus's members then all started listening to such Thrash Metal acts as Venom, Slayer, Anthrax and (their favourite) Metallica, and their new songs started getting a Metallic flavouring. Two tracks were recorded with Annikki still on board, and released on the Have A Rotten Christmas Volume II compilation...but then the singer was found no longer fitting the new type of material, and so Jake took over lead vocals again in March of 1986, returning the band to its original 3-piece line-up. Recordings for the Stolen Life album were done in July, but the Dekadenz label which had also paid for the studio time was none too happy with the more Metal-flavoured music, and refused to release it. The album was therefore left to be released abroad only, in France and Brazil. Or rather, that was the plan...for the album was never released in France after all!
Nice bit of not commonly known history here. You see, releasing a fanzine of my own back then, I'd come in contact with the owner of the French label about a year prior, and we were really on good relations with each other, so he let me in on some of the more vicious practices of the music business. As it turned out, some of the more "established" French labels didn't like the fact that this new label was pinching at what they felt should be theirs (in other words, they felt that, if any money should be made off the backs of hard-working musicians, it should be they themselves...no matter that some people who were into the thing of distributing bands' music for the fun of helping out the bands in the first place, and hoping to break even in doin' so), and  they instigated the distribution company which the label worked with to hold back on most of the stock. Maybe you don't know about this, but in order to get albums in the shops, a label relies on a distribution company, and of course, the amount of copies per album which a record store would take, would depend on how convincing the distribution agents were. Now matter how many copies would eventually be sold, the distributor would have to be paid a fixed fee (depending on how many copies were handed over for distribution), an amount which was usually retracted from the revenue of the sold albums (a sum which was up to the distributor to collect). So, after several released albums, the label owner had already taken on personal loans at the bank, as he was still waiting for his revenues to come back in. In fact, a new personal loan had just been granted for the pressing of some 150 test pressings of the Stolen Life album, when the distributor (whom had used several apparently valid reasons for the delay of payments) dropped the bomb on the label owner, slapping him with a law suit to pay a fortune in fees for so-called "services rendered". You see, the bastards have a safety clause in their contracts, assuring themselves of fee payments, no matter what the revenue of sales, and as they had proof that they had been to só many record stores with the label's goods (it would later turn out they offered the albums to all the wrong type of stores!), they had a good case against the label owner, and therefore held onto the stock as a means to pressure him (another of those handy contract clauses). In other words: Neg FX/ Bunker Records was facing bankruptcy, and that's indeed what later happened.
Of course, there were still 150 test pressings which arrived at the label owner's home, and he set forth to distributing those among his correspondents as a means to do his last bit for the band, putting in even more money of his own to pay for the postal costs. Now that...that is dedication beyond the call of duty! And I felt so close to the dude at the time, because I was putting money into the distribution of that silly fanzine of mine all the time...but the stories I could tell you there do not belong here, really! About 15 years later, I jokingly asked an acquaintance of mine whom was going to a record auction in Hamburg (he actually was befriended with one of the auction masters) whether he could find out how much that version of the Stolen Life album would fetch, and I tell you that when he told me of what would be the starting bid, I fell silent for a moment! Still, I held onto the album, although it would have gotten me more than a month's wages, even today! Okay, back to the history of Rattus now?
Having been bunked by Dekadenz, Rattus recruited a second guitarist in the person of Kari Tomminen in December of 1986, and did its first shows in the new line-up in February of 1987 on venues in Sweden and Denmark. However, as people had not yet heard the new material, they were expecting the old type of music, and were therefore quite disappointed in the offering. In November of 1987 then, the band recorded 2 new songs for the 7-inch single Win Or Die which, released in early 1988, would be the last release of that era for the band...as they decided to fold in February of 1988 (Tomppa leaving first, and actually VP and Jake, who were living in Helsinki at the time, tried to keep the band goin' for a while with another bassist, but without a rehearsal place at their disposition folded the band). In fact, the single was release postumously!
In the years which followed the band members occupied themselves in other bands. Jake went ahead with Zwanziger (released a single), and Velli joined with Kari to start Chorea (also released a single). Not surprisingly, both bands were both geared more towards Metal. Annikki meanwhile, started Tik-Bloody Tak and Brattattack, and started Hiljainen Kevät with Astro (Rattus's original idea for a singer) and Jake. Along the way, two Rattus compilation albums were released: first the aforementioned Levytykset 1981-1984 (1993; and funnily enough, as the album was released in a very low-activity summer, the album became the first ever Rattus album to hit the Finnish charts, moving up to #32), then Täältä Tullaan Kuolema (in 1996).
On April 4th, 2001 Rattus' original 4-piece line-up including Annikki, Jake, Tomppa and Vellu returned to the stage for a one-off gig, playing the band's early '80s songs (and having Astro come on stage for a couple of songs as well). Another gig in that same line-up followed in 2002, for the Hämeenlinna Ämyrock event which happened on June 26. Even more gigs (some of which in the trio line-up) came in 2003, including a show somewhere in Germany. Then, the band decided to revert to the original trio line-up, and keep their music in the original vein. 2005 saw the band bring a come-back album entitled simply Rattus (not to be confused with the 1983 compilation album!), and 2007 even found two albums with the band's name on it on the market, although you would've had to live in Malaysia to get yourself a copy of the 30th Anniversary Of Rattus compilation album...the new studio album being released with the title Uudet Piikit. In the time in between, Svart Records also re-issued the band's first two albums (1982's WC Räjähtää and 1984's Uskonto On Vaara) on vinyl...and so now they have just issued the band's latest offering!
However, the new album is nót with the original trio, as Jake decided to leave the band in 2011. He has since been replaced by Jopo Rantanen, whom differs 18 and 16 years in age from Tomppa and VP respectively, but whom manages to keep the band within the band's original type of music. Well, he's perhaps a somewhat better guitarist than Jake was in those days, but at least he doesn't put a "Metal" touch to the music! Another thing is that apparently the band has reverted to singing all of their lyrics in their own language (admittedly, I haven't come across the band's other output from the previous decade yet, and cannot therefore confirm or deny that the tendency to steer away from the use of English is a current one, or was already started on the two previous albums!), and I have to say that this brings back the exotic flavouring in Rattus' music. Of course, all people unfamiliar with the Finnish language won't understand two words within a song, but somehow that's quite alright, I guess. It must be, seen the cult status which this band has garnered over the years!
In other words, I have very much enjoyed reminiscing days of old while listening to this album, and I hpe there's still place for bands such as this with younger music fans, be they of "Punk/Hardcore" mentality, or not! Because, you know, there's a melodic aspect to this music, no matter what, and being brought by seasoned artists who now have the best of technologies available for recordings, that aspect of the music, as well as its aggressive part, now comes through better than ever before!