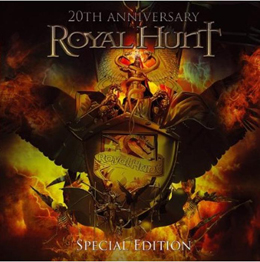 Album Title:
20th Anniversary – Special Edition
Release Date:
Friday, November 23, 2012
I hadn't realized Royal Hunt already exist 20 years.  Time flies by.  To celebrate their 20 years of existence, Royal Hunt have released a Special edition set, which contains no less than 3 CD's, and one DVD.  On it is an anthology of songs coming from their 11 albums, but also one brand new song, and three acoustic songs.  The DVD features all promotional clips shot by the band over these 20 years.
This release can easily be described as a 'best of' of this Danish/American band.  If you haven't got a Royal Hunt album in your collection, then this new album is the best chance to discover them, because you get an album that gives a good sample of their career over the last 20 years.
For those of you who don't know what type of music Royal Hunt bring.  It's not easy to link them to one genre.  This is due to the fact that there have been lots of changes in their lineup, which means that they have at times been more into pure hard rock, and on other moments played more rock lingering on pop.