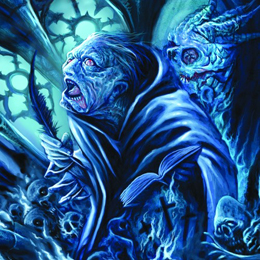 Album Title:
Blood Vaults - The Blazing Gospel Of Heinrich Kramer (Cryptae Sanguinum - Evangelium Flagrans Henrici Institoris)
Release Date:
Friday, September 6, 2013
The Ruins Of Beverast were formed ten years ago by Alexander von Meilenwald after Nagelfar (unfortunately!) split up. The project did three albums in mean time (all of them via the small yet, at the same time, great underground label Ván Records), Unlock The Shrine, Rain Upon The Impure, and Foulest Semen Of A Sheltered Elite, which all, without exception, were of a fabulous quality (at least I think so). The last one, by the way, easily made it to the top-three in my 2009's end year's list, for what it's worth…
Like each former record, Blood Vaults - The Blazing Gospel Of Heinrich Kramer … lasts for more than an hour (78:26 minutes, to be more specific), and this time the album deals with Henricus Institor, a not-so-dear friend of mine during the fifteenth century. This German Dominican prior became a feared (and also contested) inquisitor in parts of Austria and Hungary, but most of all he's known as author for the interesting 'novel' (hehe) Malleus Maleficarum. I guess you did hear about it, dear reader…
Also in the vein of the former recordings, Blood Vaults … stands for an oppressive, suffocative and ominous form of mostly obscure Doom Darkness, balancing in between spheres of Old School Doom-Death, Atmospheric Black and Funeral Doom Metal, mingled with elements from icy Dark Ambient and minimalistically industrialised Noise-Wave (I just found it out myself, but how would you describe this stuff???). it's rather evident that, with such a long duration, there might be a nice dose of variation, and this goes for the tempo especially: all kinds of sonic slow-motion interfere with each other, and what's more, there are a couple of aggressive outbursts as well, evidently. The sphere is so horrific, which for a better part has to do as well with the quasi-unearthly synths. But all instrumental details are exceptional: the electric and bass guitars, the percussion (Alexander is known as well as the fabulous drummer for Truppensturm, for example), the deep, abyssal grunts (very funereal in execution), and the addition of acoustics as well.
I think Foulest Semen … was more 'evil', while this new epos rather touches a level of primal fear. I know, this isn't an easy, and revealing explanation. I mean, however, that the barbarism made place for aural nebula. Still not following? Never mind, just remember this: The Ruins Of Beverast still are a possible definition of purest DOOM!