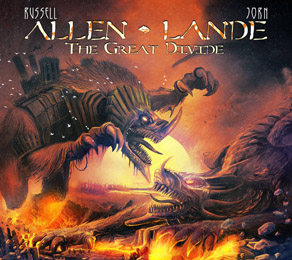 Release Date:
Thursday, September 25, 2014
Allen/Lande: "The Great Divide" Russell Allen and Jorn Lande team for their fourth partnership with the album "The Great Divide".
We all know that Allen/Lande is a melodic/heavymetal super group formed in 2005 by guitarist Magnus Karlsson. Surprise: Magnus is not involved in this album at all!! Timo Tolkki is taking over from him. Timo is a Finnish musician best known as the former guitarist, songwriter and producer of the powerband
Stratovarius. Now he was the producer, mixer and songwriter for the album "The great Divide". "Come Dream With Me" is a good indication of what's come on the record. "Dream about Tomorrow", "In the Hands Of Time" and "The Hymn to the Fallen" are songs pretty rocking! I kinda miss that full frontal audio assault that Magnus Karlsson gives us with his guitars. Mid-tempo songs are "Lady Of Winter" and "Solid Ground"! Mid-tempo numbers cannot always appeal to me but ok these numbers show off the guys at their best. As always there must be a ballad. The ballad that close the album is "BitterSweet". One minute of the song is more than enough for me. As we say in Dutch, I do not get goosebumps from that track. Allen/Lande deserve respect, "The Great Divide" still manages a lot of great highlights!!