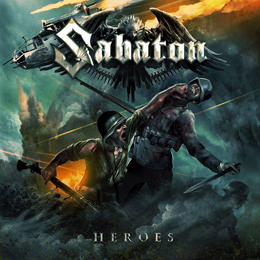 Line-up:
Pär Sundström - Bass
Joakim Brodén - Keyboards, Vocals
Thobbe Englund - Guitar
Chris Rörland – Guitar
Hannes Van Dahl - Drums
The expectations for the new album of 'Sabaton' where very high after their super release of 'Carolus Rex'. Because it was their first release with their new line up we had to wait and see if it could compete with their previous album. The record itself is not bad but it's sometimes to rushed and uninspired in my opinion.
It's practically a remake of their previous albums. The beginning is very good. 'Night Witches' is a nice song to stomp along with, and it's immediately the best song on the album. then there are all monotonous songs except for the last one: 'Hearts Of Iron' is yet a song to stomp along with and it's a nice ending for the album.
I don't say that it's a bad album, but I guess that the inspiration is gone. A short stop to revitalize would not be bad I guess. Nevertheless a meritorious 'Sabaton' album, but it will not 'out best' any previous album.
Tracklist :
1.   Night Witches
2.   No Bullets Fly
3.   Smoking Snakes
4.   Inmate 4859
5.   To Hell and Back
6.   The Ballad of Bull
7.   Resist and Bite
8.   Soldier of 3 Armies
9.   Far from the Fame
10. Hearts of Iron