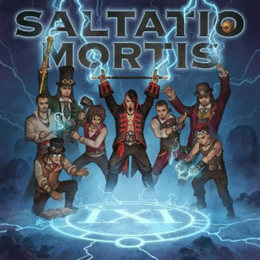 Saltatio Mortis is a German medieval metal band. Their name is Latin witch means "dance of death". It's an allusion to the "Dance Of Death", and a motto of the band is: "He who dances does not die." Unfortunately I don't understand any German, and their official website and Facebook have no translated version so I couldn't find out anything about these lads.
Anyway, these merry German chaps have a new single out entitled "Wachstum Über Alles". Well I don't know what Wachstum means, but they take it very seriously. Five out of six songs are "Wachstum Über Alles", but just in different versions with different guests on it.
Now that isn't a strange thing, but common guys….5 times? Don't get me wrong they all sound great and unique but it maybe a little to much. Apart from that these guys know how to keep you interested as the original track has so many hooks and genre changes that it keeps your attention.