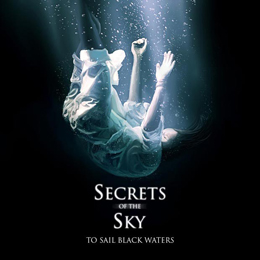 Holy smokes, is this Oakland, California based band on fire, or what?!
SotS was founded in 2010, when guitarists/ keyboardists Chris Anderson and Clayton Bartholomew put their heads together to start writing material which would eventually shapeshift into what would eventually become their current sound : "cinematic, cerebral, atmospheric Post-Metal with Doomy, Proggy, Blackened influences" (from the info sheet accompanying the promo copy of the album that was sent to us). Following several auditions, the duo eventually found bassist Ryan Healy and drummer Lance Lea to be the best fitting rhythm section and individuals, adding them to the line-up before the year's end...and early the following year the current line-up was completed with the additions of third guitarist Andrew Green and lead singer Garett Gazay. The band continued to work on their music for the better part of that year, and recorded the 4 tracks which were to become SotS's debut album over a period of 8 months at Trident Studios with engineer/ producer Juan Ortega (whom you might know from having worked with the Metal giants such as Testament, Machine Head, Cattle Decapitation, and many more).
The band did its debut live shows (SF Bay Area) in early 2012, and immediately gained notoriety, which resulted in the band playing shows up and down the West Coast, and supporting the likes of Saviours, Torche, Black Cobra, and KENmode. And, once you've heard their music, you'll not find that immediate success such a surprise! To elucidate, I'll cite some early show reviews, with one reviewer (MetalSucks) making the comparison "...equal parts Te Ocean, Agalloch, Type O Negative, Opeth and something their own. It's dark, dark stuff with a tinge of progginess that crosses multiple sub-genres and it sounds fantastic", and another (Metal Injection) stating, "Imagine if you tossed Neurosis, more recent Immortal, and Porcupine Tree into a blender. Sounds like a fucked up mix, right? It's an awesome fucked up mix though!"...sure is! And these two reviews actually sum up the elements of which the music is made : some Prog, some Post-Hardcore, some Death Metal, some Black Metal, some Goth...the whole mixed together in a very individual way, all SotS's own! Vocals are quite diverse too, with the lead singer going from growls to screeches, and from something in between to clean...and in some occasions getting vocal help from one of the other dudes! The whole a compellingly attractive thing the more seasoned listener will find hard not to like, indeed. California's online Decibel Magazine even went so far as to not only do an interview with the band, but also stream the complete album. Find it at (www.) decibelmagazine.com/featured/secrets-of-the-sky-full-album-stream-video-tour-dates. But perhaps you're more into videos? In that case, you'll find an amazing video for the track "Decline" with a length of almost 13 minutes at (www.) metalinjection.net/video/secrets-of-the-sky-decline-music-video (for those interested in the lyrical side, a lyric video for the track "Sunrise" can be found at (www.) youtube.com/watch?v=jY_H2cVi5r4&feature=youtu.be).
If you're into great "Extreme" music with complexities, do not miss out on this band! I'm not sure whether the album was even released back in the States, but the version of Italy's Kolony Records comes in nice (very black, of course, as befitting the dark atmospheres of the music entailed within) digipak format. An absolute go-getter, and at the top of my 2013 year-lists!