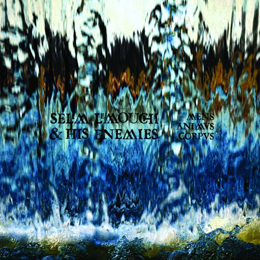 Release Date:
Friday, September 20, 2013
Last year Selim Lemouchi disbanded The Devil's Blood , due to personal and musical differences. Selim Lemouchi & His Enemies is Selim's second shoot-around as band leader and those who've heard The Devil's Blood before will pretty much know what to expect here. Each of the three long songs (6-14minutes) is an adventure in psych rock featuring jammin' arrangements and the vibe in question is sixties acid rock. 
The guitar parts of "Echaton" reveals a slight influence from Pink Floyd, but most of the time they have a unique sound of their own. Great Song, one of my fave 2013 psych tracks. The guitar lines are spacious affairs, threads of swirling, mind boggling and wailing guitarwork. The other songs are packed with melodic passages, frenzied fuzz guitar workouts too, not to mention acid-trip induced lyrical and musical content 
Mens Animus Corpus is delicious, addictive and beautifully created.