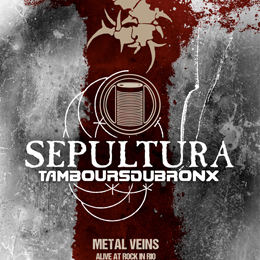 Album Title:
Metal Veins – Alive At Rock In Rio
Release Date:
Tuesday, September 16, 2014
I will confess, Your Honour, I'm not really a fan of Sepultura, and have never been.  So with some anxiety I took home both the CD and the DVD to review.  These were recorded during 'Rock In Rio', to celebrate the 30 years existence (already !) from this band.
First I put on the CD, and just like I was afraid of, besides the few tracks I did always like from Sepultura, this didn't work for me.  The fact that 'Les Tambours Du Bronx' also added their drumming to the songs was not really a major improvement.  Highly unusual to hear such a combination of instruments, that's true, but you have to be innovative in the music world, and we've had so much combinations of metal or hard rock bands with symphonic orchestra's already, so this definitely was a fresch approach.
But then I put on the DVD, and it became clear to me that whoever was on that concert, was witness of a special event.  The band obviously worked on pure adrenaline, and those guys from Les Tambours Du Bronx, started out in T-shirts, but as the evening progressed more and more clothes were shed, but despite the heat and the physical effort is also showed that these guys were also enjoying themselves as much as the guys from Sepultura were.  Playing for a home audience must also have helped a lot, and what an enthousiastic audience it was.
To sum it up: I really enjoyed the DVD, the CD was something else, despite not being a Sepultura fan.