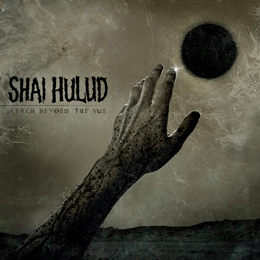 Release Date:
Friday, February 15, 2013
It is no secret that Shai Hulud (the worms out of Dune's novels) are one of US pioneer metalcore bands. Starting in 1995, there have been more than twenty musicians playing in this band, and apart from a longer break between, changing line-ups of the band have recorded albums every five years. Their current CD Reach Beyond the Sun shows Shai Hulud from a surprisingly strong side.
Foremost I am impressed by the dynamic production that helps this album to develop its sound structures even more. The sound quality is much better than on their early albums, and the thirty minutes of music hardly contain any filler.  Their music is still solid metal core of the most extreme kind, although the band allows complex parts into their songwriting. True, there are occasional thrash or punk rock moments, but overall it's metal core the way it was popular in the nineties, in a way that probably only American bands could handle. Shai Hulud are anything but tired. With this attitude, they are allowed to release further albums in the future.