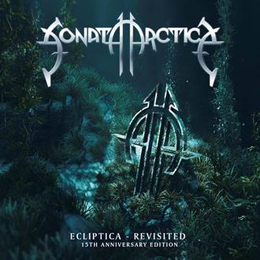 Album Title:
Ecliptica Revisited : 15th Anniversary Edition
Line up :
Tony Kakko – Keyboards and Vocals
Henrik "Henkka" Klingenberg - Keyboards
Elias "E. Vil" Viljanen - Guitars
Tommy Portimo - Drums
Pasi Kauppinen – Bass
It has been fifteen years since 'Sonata Arctica' put out their debut album 'Ecliptica' and they have come a long way since then, growing and maturing into the formidable outfit they are today. To celebrate the landmark occasion of 'Ecliptica's fifteenth anniversary', the band re-recorded and reworked it all.
One of the first things that really strikes you about Ecliptica Revisited is the vocals, there is a lot more power behind them and there is very clear improvements in both the intonation and pronunciation of the lyrics, really showing how singer 'Tony Kakko' has evolved over the course of the band's career. Similarly, if you take a closer look at the instrumental, everything is just much more polished and the band feel tighter and just more together, and it makes for a highly enjoyable listen as a result.
Indeed, one of the highlights is certainly 'Fullmoon' and the instrumental brings a breath of fresh air to the track. The reworked keyboard introduction works well, giving the song a different feel before it even properly gets going, and the guitar line is absolutely incredible.
As a whole, 'Ecliptica Revisited' is a great listen and a lot of the songs have really stood the test of time – it's like the band has taken the best parts of the original album and have added to them to create something even better.
Tracklist :
01. Blank File
02. My Land
03. 8th Commandment
04. Replica
05. Kingdom For A Heart
06. Fullmoon
07. Letter To Dana
08. UnOpened
09. Picturing The Past
10. Destruction Preventer
11. I Can't Dance [Genesis cover] [bonus]