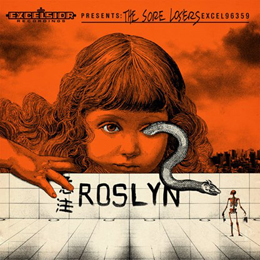 Release Date:
Monday, February 17, 2014
It's been 3 ½ years since this Belgian Bluesey Rock band released its self-titled full-length album, of which a review by ours truly was posted on Oct. 7th of 2010. So what has happened with the band since that review (which I still recommend as a reference for the band's history up to that date)?
Hum...nothing much and a lot at the same time...for the guys (still the 4 same dudes) never let off playing gigs at a regular pace, a lot of which also in Holland. Notable is that they opened the 2011 edition Pukkelpop from the main stage (you may remember that 2011 was the year when a large tree was struck by lightning and fell on one of the tents, with several hurt people as a result?). A total of three singles off the album eventually did well on the radios, but failed to sell well. In the course of last year the quartet fine-tuned 11 new songs, and eventually recorded them at Göteborg's Svenska Grammofon Studio with Rudolf de Borst (better known as Dolf The Datsun when he fronts his band The Datsuns).
The songs, of which "Girls Gonna Break It" already was a radio hit in Belgium, are simply great, and a fine continuation of what we already knew from the debut album. Again, I have trouble giving a decent description, but "Good catchy Bluesey Rock with occasional fuzzy undertones, and a very high sing-along factor" will do me fine! You can listen to "Girl's Gonna Break It" at the band's own (www.) thesorelosers.be...or rather on the SoundCloud link to Excelsior, and a video for the song "Working Overtime" is also available. Which leaves out the possibility to listen to a such fine acoustic ballad as "Reasons", but maybe you can find a sample of that on the album's page at one of the trusted online sales websites? I know, the band also has a MySpace page, but I've given up checking out that medium long ago!
Oh, before I forget it...at the moment the band is closing up a gigging schedule of Holland and Belgium, with still some dates to go in Belgium in early May, but starting the 11 of that month the quartet is off abroad for some selected sows in Germany, Austria and Switzerland. More Belgian and Dutch dates come after that (check the "all shows" section at the band's website, if you should feel so inclined)!