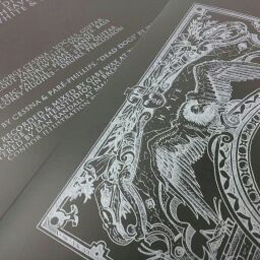 Release Date:
Wednesday, October 16, 2013
Aha...another act in the "Denver Sound" sub-genre, but this time with electrified guitar! Oh well, Baltimore (Maryland) may be somewhat removed from Colorado, but The Sterling Sisters dó combine elements of Gothic, Country, Neo-Folk, and Dark Americana!
According to the band's facebook, the quintet started out in October 2011, and in the line-up of George Cessna (son of Slim, the Alt-Country pioneer) on guitar and lead vocals (also main songwriter), Scout Paré-Phillips (lead & backing vocals & bass), Andrew Haas (banjo), Nicole Rodrigues (violin) and Corey Hughes (drums & percussion) delivered their self-titled debut EP in November of the same year, following it up with the 7-inch single Shallow Blood in June 2012. After that, came a change in the line-up with Rodrigues departing and Eric Paltell joining in on pedal steel and "normal" guitar. With Hale already recorded, the band then released a digital compilation entitled Songs For The Donors via Kickstarter. Comprised of cassette recordings and demos of unreleased tracks (and alternate versionf of two songs on the upcoming official album) the release was meant to collect funds as a means to support Slim Cessna's Auto Club on the latter's Summer tour through the US.
Meanwhile, it turns out the band went back to a couple of older songs for its official full-length debut ("Raised You in The West" and "Last Run" were also featured on the band's EP, and "Shallow Blood" was heard in a different version on the single). Nice psychedelic influences come from that twang guitar (steel pedal), and my preferred tracks are the ones in which Paré-Phillips confines herself to backing "vocals", because he weird high-pitch voice ain't really fit for leads, as heard in "Last Run". However, when she tones down on the octave somewhat (check "Country Love"), her voice becomes far more acceptable! Well, no need for any further explanations, as all of the band's material (including that compilation) can be found at bandcamp, and is available for listening sessions in its completeness! So, if you're into electrified Country which is somewhat different, by all means dó check out (http://)  thesterlingsisters.bandcamp.com.