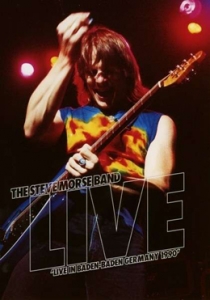 Album Title:
Live In Baden Baden Germany 1990
Release Date:
Monday, February 17, 2014
Currently, Steve Morse is perhaps best known as the guitarist of supergroup Deep Purple, the ranks of which he joined in 1994 (with contributions to 5 studio and 11 live albums as a result to date), but the man's curriculum vitae is slightly longer than that, both in the past and in contemporary days!
Born in 1954, in Hamilton (Ohio), Steve's mother was a classically trained pianist, and he himself was already familiar with both the piano and clarinet, before discovering the guitar. While still in Ohio, and working with his brother Dave, Steve briefly played in a band called The Plague, until the family moved to Augusta (Georgia). In the late '60s, he played in a band named Three with his brother and keyboard playing schoolmate William Gerald (Jerry) Wooten, performing at local psychedelic youth club The Green Onion, at a venue named Legion Halls, and at church functions.
It's when he was studying at the Academy Of Richmond County, that Steve met bassist Andy West, and with him he formed the relatively short-lived Dixie Grit (playing covers by the likes of Led Zeppelin, Cream and the like limiting playing possibilities to local dance halls), adding a keyboardist and singer, with Steve's brother Dave drumming. Steve and West continued to play as a duo billed Dixie Dregs, until Steve's expulsion from school in the 10th grade (for refusing to cut his hair) enabled him to enroll at the University Of Miami's School Of Music. West soon followed, and together with drummer Bart Yarnall, keyboardist Frank Josephs and violinist Allen Sloan, they collaborated in a lab project called Rock Ensemble II, which rehearsed and played Steve's compositions. In 1975, the band recorded some material for promotional efforts, and this was eventually released in 1997 as Dixie Dregs' The Grand Spectacular.
Following their graduation from the University Of Miami, Steve and Andy West went back to calling their band Dixie Dregs, and enrolled Rod Morgenstein (another UoM alumni) as replacement for the injured Yarnall. Combining their own compositions with covers of John McLaughlin and some Southern Rock favorites, the band began playing shows on a regular basis, and thus attracted the attention of the Capricorn label, whom signed the bad in late 1976. The band's first album, 1977's Free Fall, consisted mainly of Fusion Jazz, but although critically appraised as a pivotal album in the genre, it sold rather poorly. The ensuing album, 1978's What If, saw the band's material diversified outside of what was then considered Fusion, with added elements from Southern Rock, Classical, Folk and Country making for a greater variety of the music, and ultimately, a bigger chance of attracting a wider audience. Still, although the release was supported by a tour, sales remained minimal. But the album did gain the band an invitation to the revered Montreux Jazz Festival on July 23rd, 1978, and the recorded audio was released in 1979 as Night Of The Living Dregs. Later that year Capricorn went bankrupt, leaving the band without a label!
But not for long, as Arista Records immediately signed the band for 3 albums, with the May 1980 released Dregs Of the Earth as a first result. And this time, commercial success wàs achieved, with the album peaking at #27 on Billboard's Jazz Album Chart! Major labels being what they are, Arista next started meddling with the band because they wanted to make more money off their backs, first pushing them to rename to just The Dregs so that the name would give the band an increased visibility in the public eye (well, you wouldn't believe it, but back in those days a lot of people in the northern US would've turned their back at a band with "Dixie" in its name, without even having heard any of the music – prejudices, you know!), and so 1981's Unsung Heroes was released under the new name...without any of the expected increased album sales as a result. So next up, the label pushed the band towards incorporating lyrics to their music. The band complied, but showed a bit of rebellion on their side by calling that next album (released in 1982) Industry Standard! Having fulfilled their commitments to Arista, and tired of touring, the band disbanded in early 1983!
Never one to sit comfortably doin' nothing, Steve formed The Steve Morse Band with bassist Jerry Peek and drummer Doug Morgan (ex-Glass Moon), but the latter had for forfeit after a first tour due to previous commitments, and as his replacement Rod Morgenstein was recruited. Having recorded their debut album The Introduction on their own in late 1993, the band went on a German tour in early 1984 as a bi-line of Steve doin' clinics there, and while on tour the band signed to Elektra Records, who released the album mid-year. In December of that same year, the band again started a  tour of Germany. Steve Morse Band's sophomore album, 1985's Stand Up, included contributions from guest singers and guitarists (Eric Johnson, Alex Ligertwood, Peter Frampton, Albert Lee, Van Temple) and violinist Mark O'Connor.
In 1986 Steve joined the famed Rock band Kansas, and while with the band, contributed to the studio albums Power and In The Spirit Of Things (respectively released 1986 and 1988). he left the band after touring for the latter album, but rejoined them for part of their 1991 tour. Worthwhile in between trivial thing: Steve briefly worked as a commercial airline pilot between late 1987 and early 1988!
Next up, both Steve Morse Band and Dixie Dregs were reactivated. The latter reforming for a tour featuring former members Morgenstein, Lavitz and Sloan; and coinciding with the tour a compilation entitled Divided We Stand was released. Bassist Dave LaRue then came into the fold for more live dates, recorded material of which gave rise to 1992 's appropriately entitled Bring 'Em Back Alive. Eventually violinist Sloan, whom was frequently absent due to his medical career, was replaced by Jerry Goodman of The Mahavishnu Orchestra fame, and this line-up signed a deal with the resurrected Capricorn Records for the release of the 1994 studio album Full Circle. In the meantime, Steve Morse Band had not been inactive either, releasing 1989's High Tension Wires, 1991's Southern Steel, and 1992's Coast To Coast.
Following his joining of Deep Purple, Steve still found time off for other projects, as for instance continuing his Steve Morse Band, who went on to record/ release the albums Structural Damage (1995), StressFest (1996), Major Impacts (2000), Split Decision (2002), Major Impacts 2, and eventually the 2009 Out Standing In Their Field. I'm not sure if some of those ain't live albums, though. Also, in 2005 and 2009, came the release of the two-part Prime Cuts – From Seve Morse's Magna Carta Sessions. In 2003 Steve, along with renowned artists Jimmy Barnes, Bob Daisley, Lee Kerslake and Don Airey, former Living Loud, recording the one-off self-titled 2003 album, and doin' a tour in support of it, which culminated in the 2005 2CD/DVD release Live In Sydney 2004. Some rumours were floating about in early 2010, that Steveand Daisley had started work for a new studio album, slated for a release in 2011, but as yet nothing's substantiated! In 2007 Steve started to collaborate with singer Sarah Spencer on a more textural and acoustic sounding project, which also involved bassist Dave LaRue and drummer Van Romaine (both of the Steve Morse Band) on the August 2010 album Angelfire. Angelfire opened for the Steve Morse Band on several shows in the US (earliest 2010). Last but not least: in 2012 Steve started a collaboration with Mike Portnoy, Dave LaRue, Casey McPherson and Neal Morse for the release of the self-titled Flying Colours. The successful European tour was documented on the 2013 CD/DVD, which I reviewed. Oh, by the way, info for the above was culled from Steve's page on Wikipedia, and if you're looking for more details, that's where I gladly re-direct you to!
Okay, we've come full circle here, so now a bit more about the DVD at hand. The main feature is an hour-long show recorded for the German music program Ohne Filter on March 21st, 1990. Although Steve Morse Band had by then already released 3 albums, the second part of the show (4 tracks) was dedicated to music originally written for the Dixie Dregs. For the encore however, the band reverted to another track (their then current single "Cruise Missile") off their 1994 album The Introduction. And it's with two tracks off the same album that the band (then consisting of bassist Dave LaRue and drummer Van Romaine alongside Steve) that the show was started too. Three more tracks were played off 1989's High Tension Wires (actually released as a Steve Morse solo album), and weirdly enough the in-between tracks would not officially be released but on 1991's Southern Steel (one being a nice Classical/ Jazz Fusion thingy). The track-list was apparently chosen in a way that some consecutive songs would be in a same vein, although not off a same album, but in the end I'd say that the alternation of calmer ventures into Jazz Fusion with the more Rock-influenced tracks was well-considered, making for a very well-balanced show!
A mere 55 minutes being somewhat thin for a DVD, the compilers of this release chose to add some bonus material, in the form of 4 tracks culled from an earlier Steve Morse Band show on the same program. Two of those, "Pride Of The Farm" and "Rock 'n' Roll Park" (both of Dixie Dregs) are also featured in the more recent show, and one other track, "Northern Lights", finds Steve playing a short solo bit on acoustic guitar...which is however so well-recorded that it almost sounds like an electrical one with just a slight bit of distortion on it. As yet another bonus, the DVD also includes the music clip the band made for "Cruise Missile".
End conclusions? In spite of having sought out music far and beyond the mere Hard Rock genre to which I listened when I first started buying records toward the end of the '70s, I had never encountered music by either the Dixie Dregs or the Steve Morse Band, and I must say I am amazed at the fact! Clearly, this artist should've been at a same par as the likes of Steve Vai or Joe Satriani. Well, we'll not argue about the fact that for the better informed than myself, he actually was...but the fact remains that I only first heard of Steve Morse when he joined Kansas. In other words, this release was a real fine surprise to me...and I now have a couple of possibly hard-to-get vinyl gems more on my "wanted" lists!